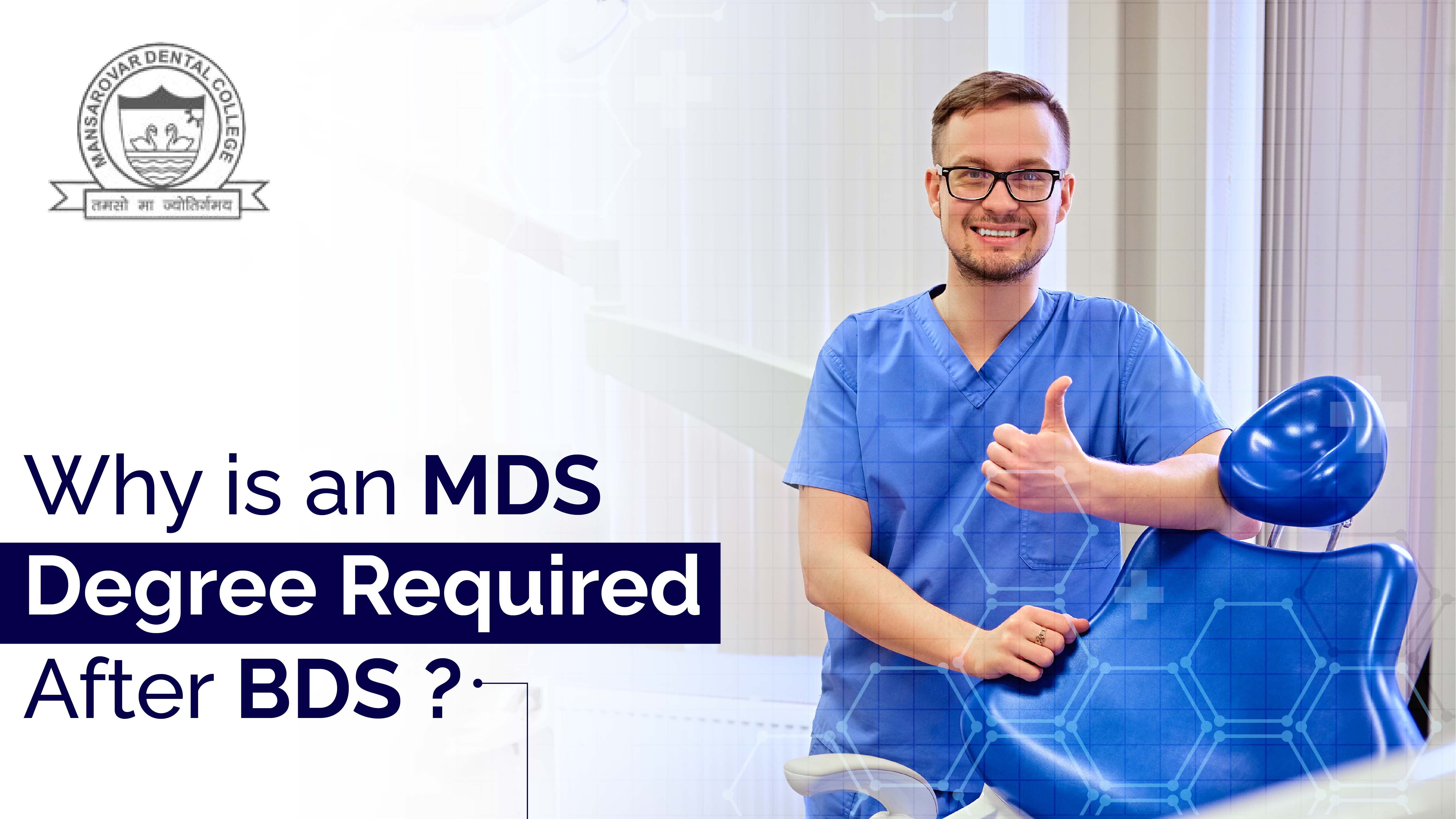 Why is an MDS Degree Required After BDS?
Everyone knows that the main advantage of earning a master's degree is that it gives you a deeper understanding of the subject you are studying. Nevertheless, every dental student's dream is to earn a postgraduate degree in dental surgery which provides opportunities for both an academic career and a clinical practice. Furthermore, improvised lessons are taught at about 324 colleges offering MDS programs in India. Even yet, a few students fail to recognize the significance of this degree. In light of the situation, this blog is our humble attempt to explain the worth of an MDS degree and many facts related to it.
Read About a Master of Dental Surgery
Master of Dental Surgery is a specialized field of medicine, which typically focuses on the mouth, jaw, dental sector, and other facial areas. A few MDS course details are given below:
Course Level
Postgraduate
Duration
3 Years
Eligibility Criteria

He/she must complete a BDS program from an accredited university that has been approved by the Dental Council of India.
Moreover, they must appear and pass the NEET PG entrance test.

Average Course Fee
Ranges between 5 lakhs to 15 lakhs
Most important MDS subjects
| Subjects | Topics covered |
| --- | --- |
| Conservative Dentistry and Endodontics | Preventing Dentistry, Endodontics, Dentistry Material, etc. |
| Periodontics | Applied Basic Sciences, Recent Advances in Periodontics, Diagnosis, Treatment, and Preventive in Periodontology and Implantology, Recent Advances in Conservative Dentistry, etc. |
| Orthodontics and Dentofacial Orthopedics | Basic in Orthodontics, Diagnosis, and Radiology, BioMechanics & Various Tissue Changes in Techniques and Treatments in Orthodontics, Recent Advances in Orthodontics, Applied Basic Sciences, etc. |
| Prosthodontics and Crown & Bridge | Removable Prosthodontics and Maxillofacial Prosthodontics, Applied Anatomy, Physiology, Pathology and Dental Materials, Fixed prosthodontics, Temporomandibular Joint, Occlusion, and Implant-Supported Prosthesis, etc. |
What are the Advantages of Obtaining an MDS Degree After Completing Your BDS?
Enhanced Knowledge
Candidates who have a bachelor's degree in medicine, particularly a BDS, should pursue a postgraduate degree in the same, as it will help them learn more about the industry and further improve their resume for job recommendations. Additionally, candidates will receive practical experience handling actual medical concerns related to oral and dental disorders through the variety of specializations offered at the MDS colleges in India.
Job Opportunities
Employment opportunities are always available to candidates with a Master of Dental Surgery program. Also, this is one of the most sought-after medical degrees, and famous institutions like Fortis Healthcare, Apollo Hospitals, Dental Clinics, ICMR, AIIMS, and Health Centres are actively recruiting these graduates.
Also Read:Career Options After MDS In Oral Medicine And Radiology?
Job Security
100% job stability is guaranteed for students pursuing this degree. Moreover, the position of an individual completing MDS courses is permanently secure regardless of risk, calamity, or any global pandemic.
Good Compensation
In India, MDS graduates make a respectable wage. Many people visit an oral specialist because they have a variety of oral concerns. An MDS graduate can expect to make INR 5–6 LPA on average.
Gateway for Ph.D. Programs
Obtaining a degree from one of the MDS colleges will make Ph.D. a stepping stone for you. Moreover, it will significantly improve the value and scope of employment chances. So, individuals who want to work in the academic section of dental and oral health fields should enroll in this program to become associated as experts.
Top Employment Opportunities for MDS Graduates
The following roles can be explored from pursuing education at the best dental colleges in India for MDS:
Job Roles
Roles & Responsibilities
Academic Lecturer
They mostly explain the thorough course to dental college students pursuing bachelor's and master's degrees. Also, both in-depth theoretical and practical classes should be provided as guidance. Moreover, this profession requires them to participate in the advancement of dental science by conducting standard research and advancing current dental research.
General Practitioner
These experts operate independently as specialists in either private practice or join any clinic to assess, treat, as well as operate on patients as necessary.
Dental Surgeon
Dental surgeons are an essential element of every hospital, and his/her primary duty is to observe, examine, and treat dental and oral conditions in-house as well as OPD patients and execute operations as necessary
Clinical Research Scientist
Working as a Clinical Research Scientist will allow you to conduct research professionally. Also, these experts can research the various dental science specialization areas to find novel techniques, pathology, treatments, differentiating elements, ways of prevention, etc at

the best colleges for MDS in oral surgery in India
Also Read:High Paying Jobs After MDS In India
Why Mansarovar Dental College Bhopal for the Best MDS Programs?
It makes use of the skills and knowledge of top-notch faculty to support personnel and students in upgrading their training in all areas of personal, academic, and professional life.
This institute in Bhopal offers a fully functional dental hospital with state-of-the-art services. And, more than 250 branded dental chairs, CBG, dental X-rays, ceramic furnaces, induction casting equipment, etc. are among them.
The dental institute features a career advisory and placement cell that provides career coaching in addition to information on opportunities for independent work, higher education, and employment.
As a whole, Mansarovar Dental College in Bhopal, MP provides a supportive learning atmosphere for empowering, motivating, and educating the students to build a solid academic record. Additionally, here students are enabled to treat a variety of dental health issues with comfort, ease, and confidence.
Final Thoughts
Overall, India ranks second in the world for having the second-highest number of dentists, with about 2.7 lakhs of them registered with the Dental Council of India (DCI). And, in this context, earning an MDS degree is the only way to get ready for a career as a qualified dental specialist. Furthermore, a master's degree in dental surgery is necessary to succeed in the area, even if undergraduate programs provide a solid conceptual foundation.
FAQ's
1. How frequently can we take the NEET MDS exam?
You can attempt the NEET MDS exam a total of three times. However, the General category NEET MDS cutoff for 2023 is 272, while the SC/ST/OBC category cutoff is 238. Moreover, a total of 6,228 seats will be made available for admission through NEET MDS 2023.
2. Which MDS division has the highest income?
The dental specialty that pays the most is oral and maxillofacial surgery. Additionally, the salaries of these experts range from 0.3 lakhs to 21.6 lakhs, with an average yearly compensation of 5.2 lakhs.
3. Will my MDS from India be recognized in any other country?
Yes, candidates who have earned an Indian Master's of Dental Surgery can practice medicine in Australia. Moreover, to practice dentistry in the country, applicants must submit all relevant paperwork on time and register with the Australia Dental Council.
4. What are the skills you can learn at the best MDS colleges in India?
A thirst for Knowledge, Scientific Research and Development, Sharp Memory and Prompt Approach, Communication and Interpersonal Skills, Counselling and Caring Skills, Approachable and Empathetic Skills, Medical Writing Skills, as well as Patience and Persistence, are some of the key skills you can work on while pursuing your degree from the best MDS colleges in India.