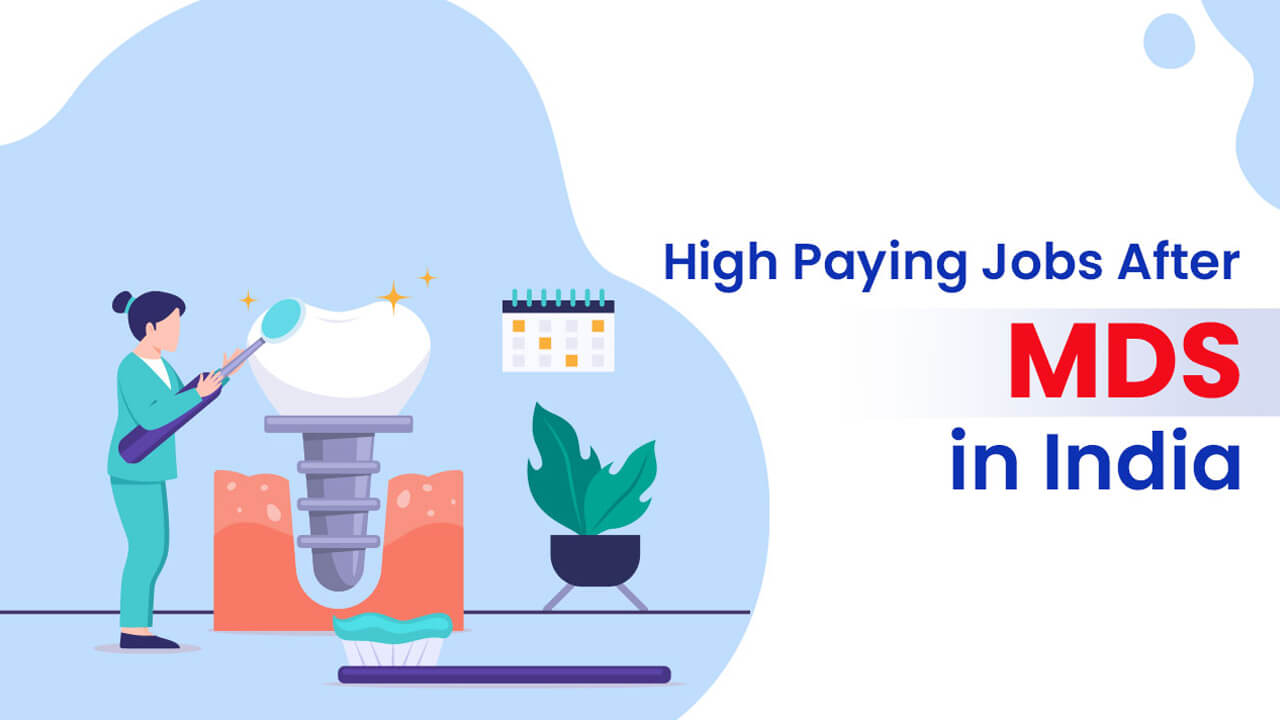 High Paying Jobs After MDS In India
The Medical field is one of the coveted fields that involve a lot of pride for Indian families. Nationally, the demand for qualified dentists is high and is exponentially increasing annually. Graduates who are skilled in different dental niches find themselves ready to work in the field. The Government of India has plans for building more medical colleges across the country.
MDS or Masters of Dental Surgery is a postgraduate level degree in dental sciences. The three-year-long programme is for students who have a Bachelor of Dental Surgery (BDS) degree. Students can get admission through a national-level entrance test like NEET MDS, AIIMS PG, or AIPGDEE. Most importantly, students get to choose a specialisation to graduate with their MDS degree. Some popular specialisation choices are Prosthodontics, Periodontology, Maxillofacial Surgery, Orthodontics, etc.
Upon finishing their MDS degree, students are open to various job positions in public and private hospitals. There are job profiles available in a research field where candidates work on finding cures for dental diseases. Some popular job profiles are Dentist, Dental Hygienist, Clinical Research Scientist, General Practitioner, Lecturer, etc. These job profiles enjoy a salary range between INR 3,00,000 to INR 12,00,000 LPA. Salary depends significantly on the candidate's experience, knowledge and skills.
MDS Scope
MDS graduates have ample opportunities for career growth in India. Jobs are available in private hospitals and public hospitals through nationally conducted entrance examinations. Alternatively, private practices can be set up.
Working in the research field is also a popular choice. Job profiles are available based on the specialisations such as Endodontist, Prosthodontist, Pedodontist, Periodontist, Dental Hygienist, etc. A brief description of the most popular job profiles for MDS graduates has been discussed below.
Job Profiles After MDS
MDS graduates from the top dental universities in India are hired in different capacities. Notably, the Mansarovar Dental College, an MDS programme, witnesses its graduates working in one of the following job profiles.
Dentist : -
The first and most popular choice considering the career options after MDS is to work as a Dentist. This job profile is also alternatively known as Dental Surgeon. Dentists are surgeons who work with patients and diagnose and treat oral problems. Treatment is mainly done on an individual's teeth and gums.
Other services are cleaning, teeth whitening, putting in braces and implants, etc. A qualified dentist also does significant operations like root canals, cosmetic and reconstructive procedures. Dentists can be hired in both private and public dental clinics and hospitals in the dental department. All individuals who wish to work as a Dentist can do so with a bachelor's degree. With a master's degree, one can choose a specialisation. In India, the average salary for a dentist is INR 3,02,773 LPA.
Dental Hygientist : -
Another popular option for a job after completing an MDS course is Dental Hygienist. Dental Hygienists are trained to provide general teeth care. They monitor and treat dental diseases, cleaning, etc. The difference between a Dental hygienist and a Dentist is that a dentist performs more advanced procedures and operations. A Dental Hygienist typically works under a Dentist and performs basic functions, which gives ample time to the dentist to perform complicated treatments. In India, a Dental Hygienist earns an average amount of INR 3,00,000 LPA.
Clinical Research Scientist : -
A Clinical Research Scientist is one of the jobs after MDS involves conducting research. They work in laboratories studying different diseases and finding out how medications work on them. The aim is to find cures and make developments in the medical and health sciences field. Clinical Research Scientists are hired by different government departments, hospitals, universities, and major pharmaceutical companies. Their job revolves around working with hazardous materials and pathogens with industrial-sized machinery. Interaction with clients or patients is also done at a particular stage in research. The average salary for a Clinical Research Scientist is approximately INR 5,00,000 LPA.
General Practitioner : -
General Practitioner is a job profile similar in concept to that of a Dental Hygienist. General Practitioners work as family doctors and diagnose and treat dental issues in children as well as adults. Their work and advice are more generic and not specialised like that of a dentist. If their patients need more advanced advice and treatment, they would recommend them to a dentist. General Practitioners have in-depth knowledge of the family health history and provide quick initial advice before the patient goes to a specialised doctor. In India, a General Practitioner earns approximately INR 7,04,682 LPA.
Lecture : -
Another popular choice for scope after MDS is working as a lecturer. Jobs are available in private and public medical colleges. Lecturers teach dental students at an undergraduate level who are working towards a BDS degree. To work as a lecturer, the eligibility requirements differ from institute to institute. Most medical institutes require specialisation in a specific dental field. Additionally, prior work experience could also be required to work as an Academic Professor. Indian Medical lecturers earn approximately INR 3,52,199 LPA.
Private Practice : -
Private practice involves working in privately run hospitals or setting up one's private clinic. The salary range for MDS graduates is higher when working in private hospitals. To work in this capacity, individuals should have strong clinical skills and a specialisation earned through MDS. On the other hand, having a practice of their own involves a lot of work, but individuals would set their fees for treatments. Also, working through one's practice, the client base is more loyal, which increases through word of mouth. The average salary for this profile is approximately INR 3,70,000 LPA.
Government Work : -
MDS govt jobs are a coveted profile that many new graduates seek out. Government-run hospitals across the country hire MDS students every year. Students should have a rank in the UPSC Medical Services examination to be hired successfully. Work is stable, and there are regular pay increments for dentists. The average salary range for Government dentists is between INR 9,00,000 to INR 12,00,000 LPA.