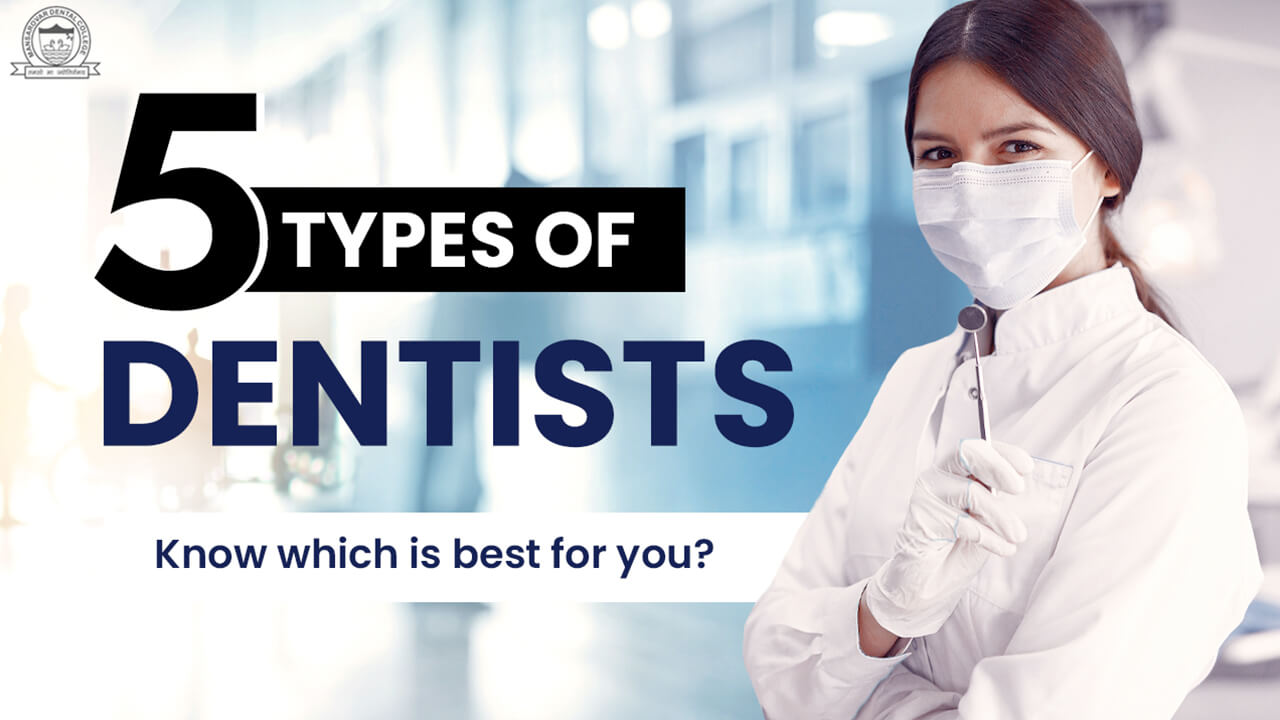 5 Types of Dentists - Know which is best for you?
It is difficult to fathom a life without a healthy and radiant set of teeth. Our teeth are more important than we think –they lend structure and personality to our face while allowing us to express our point of view. A healthy set of teeth also help a person appear more attractive and charming in a social setting. However, the path to achieving that healthy and beautiful smile is often a rocky one. People struggle with different dental issues on a daily basis. While some are riddled with serious dental maladies like pyorrhoea, others struggle with more common problems like alignment, yellowing, and cavities. These ailments can be acquired or hereditary, and people often need professional help to rid themselves of these crippling and annoying issues. A good dental specialist who can cater to individual concerns is not only a necessity but also a rare find. There are varying types of dentist specialties. Dentists or Dental specialists are qualified doctors who cater to oral concerns. Our Bachelor of Dental Surgery course is massively sought after by aspirants looking to carve a fruitful career in dentistry. Based on individual concerns, there are 5 main types of dentists, namely : -
General Dentist
Periodontist
Endodontist
Orthodontist
Oral Surgeon
General Dentist
As the name suggests, a general dentist is responsible for maintaining the overall well-being of your teeth. A general dentist can help you deal with cavities, root canal fillings, and general gum care among other issues. They also offer great insight on preventive care for your teeth by way of routine teeth cleaning and dental exams. A general dentist is often the first one to screen patients and tell them if they need to see a specialist for their tooth troubles. While general dentists are the most common of all types of dentist specialties, their importance can truly not be overlooked.
Periodontist
According to an article published by the Cunning Dental Group, a qualified periodontist is one who can successfully identify and treat issues within the gums and supporting structures of the teeth (bones). Periodontists help treat serious gum and bone disease. They are known to treat gingivitis (inflammation of gums) as well as periodontitis (gum and bone disease). They provide a plethora of services ranging from pocket cleanings, soft tissue grafting, and bone grafting. They also help place dental implants and perform complex procedures like Gingivoplasty and Osteoplasty.
Endodontist
An endodontist deals with nerve damage to the tooth or within the gums. According to Newmouth, Endodontists are specialists who deal with oral health issues pertaining to the dental pulp and periradicular tissues, which are blood vessels and tissue surrounding a decaying tooth. They are commonly referred to as root canal specialists and deal with serious cases of tooth rot. According to Newmouth, they understand the 'anatomy of tooth decay. They are dental pulp experts who can fix trauma caused to the teeth and gums. Nerve pain caused by tooth decay is unbearable, to say the least, which is why having a good Endodontist in one's life is imperative. An endodontist can work magic by relieving people of the intense pain caused by tooth rot. Apart from their basic training, endodontists receive additional training in endodontic care before starting their careers. They are known to perform both simple and complex root canal surgeries on serious cases of tooth decay.
Orthodontist
Out of all types of dentists, an orthodontist is easily one of the most visited. An orthodontist is an oral health provider who can diagnose and treat malocclusions or 'bad bites' of the teeth and surrounding structures. This basically means that an orthodontist helps fix issues such as overbite, crossbite, protrusion, and alignment through wires, braces and aligners. They also help fix malocclusions caused by missing or crowded teeth as well as misaligned jaws. Apart from aligners, braces, and wires, orthodontists use bands and retainers to fix the alignment and overall look of teeth. They also provide clear aligners and palate expanders to patients in need. They correct the appearance of crooked teeth to make them look and feel better. A good orthodontist can genuinely change lives by giving people the teeth they've always dreamt of.
Oral and Maxillofacial Surgeon
As the name suggests, an oral and maxillofacial surgeon helps perform complex tooth surgeries on people in dire need of the same. We at Mansarovar Dental College are proud of our Bachelor of Dental Surgery Course. We churn out oral surgeons who can effortlessly perform complicated surgeries in a stressful environment. An oral or maxillofacial surgeon can give a lease of new life to patients involved in crippling accidents. They are experts in treating facial injuries and providing reconstructive surgeries to patients. Since oral surgery is a complex and important branch of dentistry, oral surgeons require an additional few years of dental training post the completion of their bachelor of dental surgery degree. According to Newmouth, they provide surgeries for both aesthetic and functional purposes. Oral surgeries are usually required after seriously traumatic accidents or injuries, genetic deformities, trauma and tooth loss or decay. The services that an oral and maxillofacial surgeon provides include tooth extraction, positioning of implants, jaw realignment procedure and fractures within the jaw area. They also help remove tumors and cysts within the jaws. An Oral and maxillofacial surgeon is often assisted by an oral and maxillofacial radiologist, who specializes in taking and interpreting X-rays of the oral region.
These are the types of dentists one should consult based on their individual needs and concerns. It is always a good idea to visit a general dentist for an overall inspection and examination of one's teeth. They will help you deeply understand and analyze your tooth troubles before referring you to a specialist. It is essential to maintain the overall health and well-being of one's teeth by not overlooking concerns. So, what are you waiting for? Go get your annual dental check-up done now!