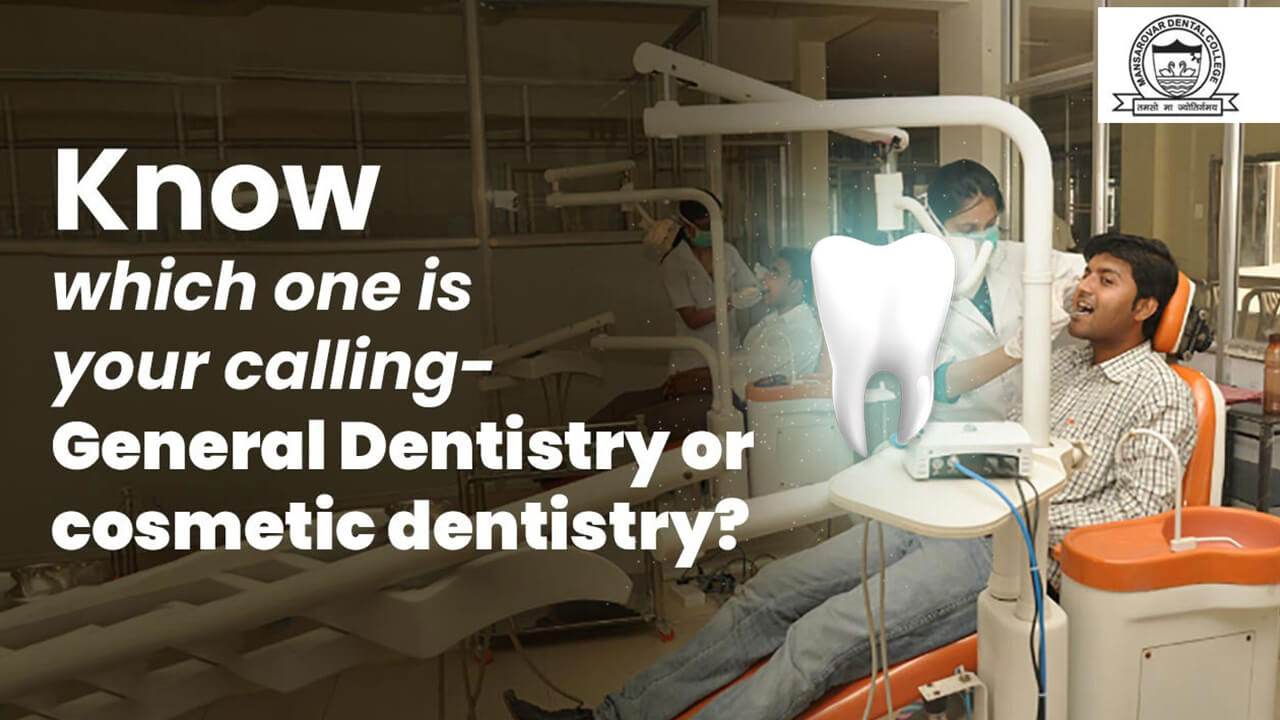 Know which one is your calling - General Dentistry or Cosmetic dentistry?
While healthy teeth are an asset, they prove to be a rarity more often than not. Each day, patients flood dental hospitals and clinics to either escape pain & discomfort from an oral malady or improve the general appearance of their teeth. While some struggle with serious oral health issues like pyorrhoea and infected gums, others hope to stun the world with their magnificent smile. An attractive set of teeth can elevate one's confidence, mood and social standing. This desire for a healthy mouth and a million-dollar smile makes quality dentists a need of the hour- a feat we at Mansarovar Dental have long accomplished. Since dentists are such a necessity, dentistry is a lucrative career path for aspiring medicos. However, this begs the question: which field within dentistry has the best scope for aspirants? General or cosmetic? Which area caters to a budding dentist's aspirations while recognising and paying them well? To answer these relevant, pressing questions, we analyse critical differences between General dentistry and cosmetic dentistry to help you pick the right career path within a booming global dental industry.
Apply for a BDS Course.
Cosmetic Dentistry Vs General Dentistry
So, what is the difference between general dentistry and cosmetic dentistry? To put it simply, general dentistry focuses on maintaining the overall health and well-being of teeth- a general dentist will help conduct dental exams and health screenings, tooth extractions, x-rays, root canals, gingivitis treatment and cavity fillings, among other necessary dental operations. In addition, as per New Mouth, general dentists help 'evaluate, diagnose, prevent and treat serious oral and maxillofacial diseases and problems. About 80% of all dental practitioners are general dentists. However, only 20% go on to specialise in other fields of dentistry, such as endodontics, periodontics, orthodontics, oral and maxillofacial surgery and pathology, and cosmetic dentistry.'
Cosmetic Dentistry lays emphasis on fixing teeth for purely cosmetic purposes – a beautiful smile can do a lot to boost a person's confidence, self-esteem and mental health. However, few are blessed with naturally well-aligned teeth. A person's genetic makeup and life experiences play a crucial role in determining the look of their teeth. However, medical science has advanced to astronomical proportions, and anyone can aspire for picture-perfect teeth. Cosmetic dentistry makes a better smile more accessible to patients. As per Sabka Dentist, Cosmetic dentists help improve the bite and the appearance of teeth and gums through a series of complex dental procedures.
Treatments and procedures within the ambit of cosmetic dentistry are bonding, porcelain veneers, tooth-coloured fillings & inlay, and All-Ceramic Crowns. These treatments help improve the colour, texture and appearance of one's teeth, giving them the smile they deserve and long for. In addition, while cosmetic dentistry includes expensive surgical procedures, they're often minimally invasive and less time-consuming.
Also Read: The Difference between General Dentistry and Cosmetic Dentistry
Qualifications for General Dentistry
So, what qualifications do you need to become a successful general dentist? In India, aspirants first need to clear their 10+2 boards with at least 50 percent marks in the science stream. Candidates who meet these requirements can then sit for the NEET or the All-India Entrance Exam (AIEE)- students with the requisite score are then selected for Bachelors in Dental Surgery (BDS), which is an essential educational requirement for all dentists. BDS is a five-year course, including one year of internship. The Dental Council of India regulates it. So, you can start your journey as a general dentist right after you're done with your BDS degree. While BDS is a tough and challenging course, it can equip you with all the skills and self-confidence you need to become a professional general dentist. Any driven, intelligent and hardworking individual can ace BDS and form a lucrative career in general dentistry.
Qualifications for Cosmetic Dentistry
While cosmetic dentistry packs many rewards, it is a more challenging path to pursue. Cosmetic dentistry requires a five-year BDS as well as a Master's in Dental Surgery (MDS)- MDS is a three-year post-graduate course that allows you to choose a specialization. Candidates need at least 50% marks in their BDS or a relevant postgraduate diploma to be eligible for MDS. After this, candidates need to sit for the MDS entrance exam conducted by NEET. One can also opt for a short-term aesthetic dentistry course post-BDS to get a taste of professional cosmetic dentistry. These short-term courses help students pick a specialization that can utilize their talent. While there are more than 13 specializations to opt for post-BDS, orthodontics and prosthodontics are the most closely related to cosmetic dentistry. Specializing in either will open avenues in cosmetic dentistry for aspirants. Also Read:Career Outlook of a Dentist
Salary and Career Prospects of General Dentistry
There are several career avenues within general dentistry--one can become a dental hygienist, dental assistant, professor, researcher, or practitioner post their BDS- there are genuinely a lot of ways to contribute to this field. The job prospects are immense, and starting salaries, as per standard statistics, range between 4-10 lakh rupees per annum.
Salary and Career Prospects of Cosmetic Dentistry
Since cosmetic dentistry is a specialization, it often proves to be more rewarding. You can open your practice or work with a team of professional cosmetic dentists. You can also choose to teach cosmetic dentistry to students by joining the faculty of a well-recognized dental institute or assisting as a hygienist, pathologist, or researcher. Starting salaries for cosmetic dentistry also range between 4-10 lakh rupees. However, if one is brilliant and resilient, growth will continue for a lifetime.
Conclusion
In a nutshell, any dedicated, diligent, and hardworking individual with the right soft and professional skills and qualifications can form a fruitful career within the general and cosmetic dental industry. However, it is essential to make sense of one's strengths and weaknesses to opt for the right field, know what you're best at, and continue to work in that direction. Your stint in BDS at a prestigious college like Mansarovar Dental will help you know your true calling. It wouldn't be fair to compare general and cosmetic dentistry, as both fields cater to different issues and hold different meanings for different people. We hope this article can help you choose the right career path within dentistry.