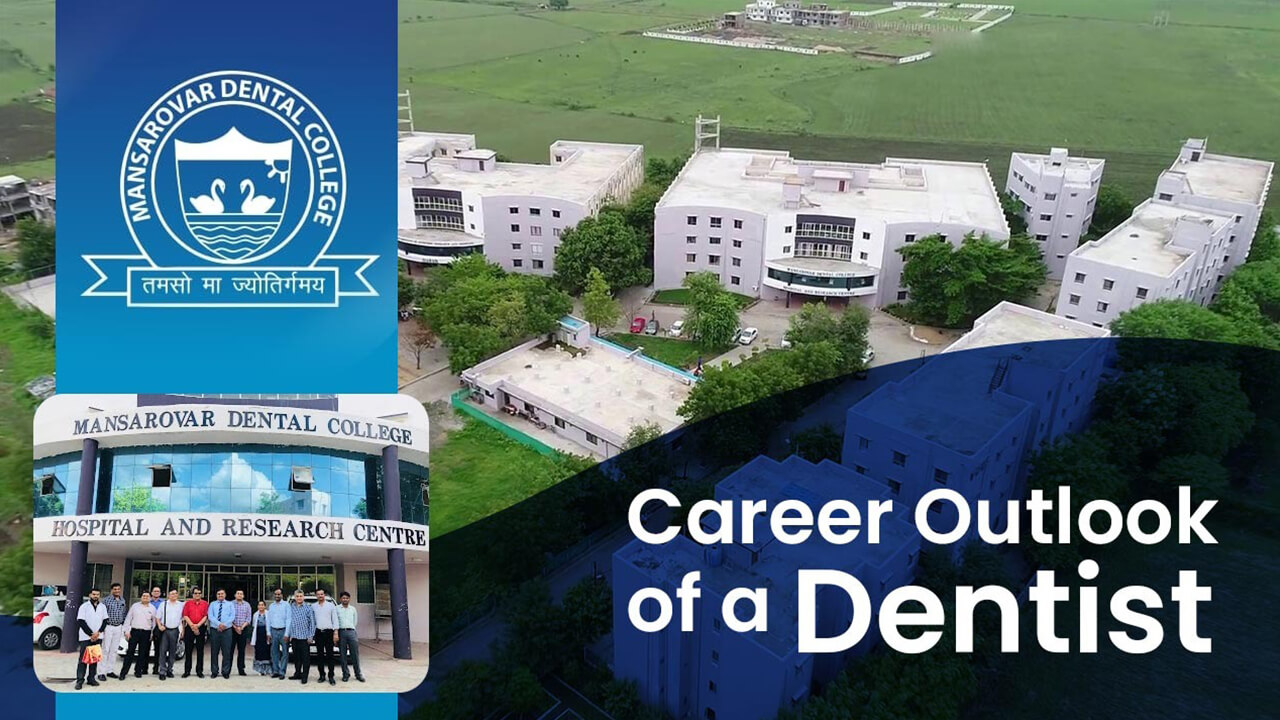 Career Outlook of a Dentist
Dentistry is an exciting and respected profession that improves many people's lives. Everyone requires dentists' services to keep their smile and body healthy, as more often, the mouth is the window to many diseases. With the world waking up to take care of health and hygiene, dentistry has begun to thrive like never before!
Dentistry is also closely related to aesthetics, as dentists help us maintain and give our teeth a healthy, natural, and aesthetic look. It's common to see people wearing braces or dental implants to make their smile and look more pleasing; all this is possible thanks to the modern techniques of dentistry.
Apply for a BDS Course.
In this article, we shall uncover all you need to know to plan your career in dentistry. You will learn how dentists can build a lucrative career in dentistry, what different specializations are available in dentistry, growth prospects in dentistry, are dentists in demand or not, the future of dentistry, and most importantly, "How is dentistry as a career?".
What is Dentistry?
Dental and oral medicine, also known as dentistry, is a branch of medicine that deals with the study, diagnosis, treatment, and prevention of disorders, diseases, and conditions of teeth and craniofacial complex, including the temporomandibular joint and other supporting, muscular, nervous, lymphatic, vascular, and anatomical structures.
Who is a Dentist?
A dentist or dental surgeon is an oral healthcare professional specializing in dentistry. They provide healthcare services like diagnosing and treating oral health problems like cavities. They also perform dental surgeries like installing tooth implants or surgery on teeth, gums, or jawbones.
How to become a dentist?
The journey to being a dental health professional starts by pursuing the Bachelor of Dental Surgery or BDS course. Students after class 12th have to appear for the NEET exam and score a good rank to get into a good college.
BDS is a five-year full-time graduation course. The five-year-long program involves four years of classroom teaching and one year of compulsory rotating internship. BDS is mandatory to start practicing as a dentist.
After BDS, students can pursue an MDS course to specialize in prosthodontics, periodontics, orthodontics, endodontics, etc.
Also Read: 5 Types of Dentists
What will be your work as a dentist?
As a dentist, your work will include-
Diagnosis and identification of the dental diseases using various methods such as examining the mouth, radiographs, salivary tests, etc.
Provide preventative oral health care such as periodontal treatments and fluoride wash. Further, you will also prescribe medicines to the patient.
Provide restorative oral care, such as implants, dental crown and bridge restorations, orthodontics, and repair of damaged or decayed teeth.
Provide surgical treatments such as biopsy of tissue and surgical operations.
Enlighten patients on how to take care of their teeth and mouth.
Lead and manage your team. Dentists often work with a group that includes dental assistants, dental technicians, dental hygienists, and sometimes dental therapists.
Career opportunities in Dentistry
Some of the significant opportunities in dentistry are
Self-practice : -
Students, after BDS, can set up their own clinics. The starting costs can be very high, but as students pick up their practice and make their clients, they can break even quickly. After practicing for some years, students can pursue specialisation to offer better services.
Higher education : -
After MDS, students can go for a PhD and eventually build up their career in academics.
Private jobs : -
Ample opportunities are there for dental students in various private hospitals and institutions in India and abroad.
Government jobs : -
BDS students can join as medical officers in central government, state governments, railways, PSUs, armed forces, etc. Students can also join as resident doctors in various government hospitals.
Also Read: Know which one is your calling - General Dentistry or Cosmetic dentistry?
Specialising in dentistry
Many types of specialisations are available in dentistry. While general dentistry can treat many issues, many dental problems require special training and education for treatment. So after BDS, students pursue the following specialisations-
Endodontics
specialises in treating the internal tissues or "pulp" of the tooth, mainly composed of blood vessels and nerves. An endodontist specialises in root canal treatments.
Periodontics
refer to the space around the tooth, including the gums and other tissues. They specialise in treatments like scaling and root planing. Periodontists often work on more problematic cases or severe gum disease.
Orthodontics
deal with the teeth and jaw's straightening, alignment, and appearance. They will treat misalignment of teeth, gaps, overbite or underbite, or other jaw abnormalities using non-surgical procedures like wires, braces, retainers, etc.
Prosthodontics
relate to cosmetic dentistry and the appearance of teeth. Using crowns, bridges, or dentures, prosthodontists examine the dynamics of a smile and are trained to create replacements to fix the oral function, comfort, appearance, and oral health of patients with missing or deficient teeth.
Paediatric Dentists
specialize in treating children's teeth. They guide children and teenagers through their dental growth and development. They also offer special counseling on nutrition, advice on teeth grinding, discouragement of thumb and finger sucking, etc.
Oral and Maxillofacial Surgeons
focus on dental implant surgery, cleft lip or cleft palate surgery, tooth extractions, corrective jaw surgery, and other surgeries on the soft and hard tissues of the face.
Dental Public Health (DPH)
focuses on preventing oral disease and promoting oral health in society. It is concerned with policy decisions to promote general oral rather than individual patient treatment.
Future of dentistry
Indian oral health sector is growing annually by 8.6%. Students can rest assured of good prospects and opportunities in dentistry. The key drivers are better health awareness, economic development, and increased access to oral health care facilities.
The future of dentistry worldwide will be powered by AI. AI will help dentists lower their operational costs and improve diagnostics and treatments. Moreover, technologies like augmented reality (AR), 3D printing, regenerative dentistry, etc., will revolutionize the field of dentistry.
Also Read: The Future of Indian Dentistry
If you want to build up a lucrative career in dentistry, join the BDS course at Mansarovar Dental College, the best dental college in Bhopal. Mansarovar Dental College ensures the best education and training to students through problem-based learning and case studies. Mansarovar Dental College offers BDS courses and MDS courses in Four Disciplines, namely Prosthodontics, Orthodontics, Periodontics, Conservative, and Endodontics.