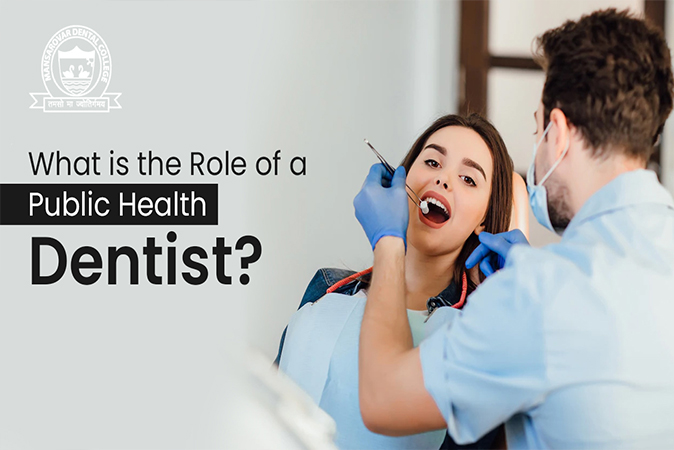 Introduction to Public Health Dentistry
Public health dentistry is an expansive field of public care and is often facilitated by the local municipality boards. The central aim of a public health dentist is to provide care to the public and assess the oral health needs of rural and underprivileged sections of a community. A public health dentist is a professional orthodontist who accesses the environment in communities and develops proficiency in community diagnosis, oral health needs, and institutional dental care.
Not everyone can afford regular check-ups and doctor consultations for critical issues such as dental hygiene and care. The Department of Public Health Dentistry acts as a social servicing arm for the community. The department organizes regular activities such as free oral screening, oral health education modules, treatment camps, tobacco cessation counselling, hygiene guidance, etc.
Role of public health dentists:
Planning and organizing oral health camps in remote towns and cities.
Hosting interventions and emphatic strategies to enlighten the crowd about an array of oral diseases.
Educating the people on the prevention and control of oral diseases.
Promoting the various benchmarks of oral health.
Implementing, managing, and developing accessible resources for oral health programs.
Incorporating ethical standards in public health programs.
Evaluating and monitoring dental care inventory.
Designing surveillance systems to monitor the oral health of vast populations.
Advocating for manageable oral health programs and working with elected officials to implement sane legislation.
Making a case for eradication and criminalization of tobacco products.
Designing population-based questions and studies and conducting oral assessments of the public.
Public Health Dentistry Syllabus
Paper
Topics
Applied Basic Science

Anatomy and Histology
Oral Histology
Applied Physiology and Biochemistry
Applied Pathology
Microbiology
Oral Pathology
Applied Pharmacology
Research Methodology and Biostatistics

Public Health

General Epidemiology
Environmental Health
Public Health Education
Public Health Practise
Nutrition in Public Health
Behavioural Science
Hospital Administration
Healthcare Delivery System
Oral Biology and Genetics

Dental Public Health

Oral Diseases
Oral Survey Procedures
Delivery of Dental Care
Payment for Dental Care
Evolution of Quality of Dental Care
Preventative Dentistry
Proactive Management
Public Health Dentistry Vs. Private Health Dentistry
Private health dentistry is all about individual patients, whereas public health dentistry is carried out in a community or group of individuals. While the tests and investigations in private health dentistry are carried out through radiography, blood tests, and cytology, public health dentistry depends on epidemiological surveys and situational analysis of oral health status.
The main goal of private health dentistry is curing diseases and restorative care. Whereas public health dentistry focuses on promotive and preventive care.
Additionally, the treatment plan for private health dentistry is based on patients and individual diagnoses. Whereas private health dentistry's treatment plans are based on resources and priorities.
The Need for a Public Health Dentist
A public health dentist is a job profile available for graduates of Mansarovar Dental College. It is one of the best private dental colleges in Bhopal. As professionals, public health dentists diagnose the underlying diseases of a community by holding mass camps. The diseases in a community are often compared to the tip of the iceberg, and dental deterioration is one of the biggest signs of larger issues. Public health dentistry focuses on the dental care of a large number of the population who don't have access to private doctors and lavish services.
Public health dentists are trained professionals with experience in community development programmes and basic health services. They provide knowledge about the prevention of major diseases, along with their diagnosis and treatment.
Countries like India invest in the Public Health Dentistry Department as a way to promote healthy living and adequate dental care. Public health dentists perform these duties:
Suggest medically safe home remedies.
Educating about easily and efficiently implemented materials, supplies, and equipment.
Administering non-dental personnel to navigate other health issues in patients.
Recommending inexpensive and affordable treatments.
Procedural Steps in Dental Public Health
1. Survey
The first step is to organize surveys based on the chief complaint of the population. Surveys are procedural methodologies which collect data, analyse the problems, and evaluate them in order to determine the crucial problems in a community.
The parameters included in the survey are:
Assessment of the socioeconomic status of the community.
Distribution of resources in the community
The community attitude towards dental care.
2. Analysis
The second crucial step is to define the characteristics of the community and identify the underlying health problems. For example, communities with access to parks and walking lanes have fewer dental problems, as they have the option to build healthy routines. The analysis compares the present-day data with statistics from the past to chart a coherent strategy for public health dentists.
Understanding the underlying reasons behind the disease is a crucial part of the job. As a public health dentist, you must be able to understand how to use analysis and find patterns of repetitions.
3. Programme Planning
The third step is to design a program that can be followed by the doctors, nurses, staff and the community. The programme includes planning events, and medical camps, and taking care of the inventory, medicines, safety gear, equipment, testing machines, etc. Additionally, the programme must also be advertised to the public to ensure maximum participation.
4. Programme Operation
Finally, the programme operation is conducted at full speed. Public health dentists put on their white coats and execute medical care for people from all backgrounds. All participants are given instruction manuals and educational seminars, and people with serious issues are forwarded to public clinics with free or affordable healthcare services.
5. Financing
The final and crucial step of the operation is to fight for funding from the local and state authorities. As a non-profit public organization, you must be aware of the budgeting procedures and must learn how to raise funds for the cause.
Also Read: What are the best career options after pursuing community dentistry?
In Conclusion
Public health dentistry in India is an integral part of community services that are worth fighting for. Many studies have linked dental health with mental health, and the adverse effect that the two have on each other. Lack of dental care can be a debilitating experience for people of all ages.