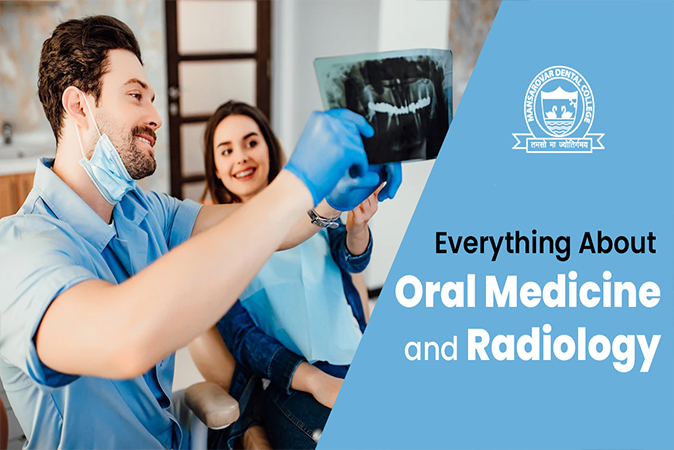 Introduction
Medical education has maintained its popularity among science students. There is always a demand for experienced professionals who have the right training from colleges like Mansarovar Dental College Besides regular doctors, there is a need to have dentists to promote proper oral health. In particular, there is a requirement for oral medicine and radiology specialists. However this begs a question, what is oral medicine and radiology? Let us read on to know more.
Also Read: Oral Hygiene, An Overview
Oral Medicine
Oral medicine is a branch of dentistry that deals with oral diseases and healthcare. Any occurrences to the maxillofacial area, their diagnoses and surgery are a part of oral medicine. Dentists use both pharmaceuticals and technical knowledge of dentistry to do their duties as a part of oral medicine. Dentists usually will perform a check-up and evaluate the damage to the teeth. Thereafter with the help of x-rays and feedback from the patient on any pain experienced. The dentist recommends the patient to an oral medicine specialist. While oral medicine covers many issues some of the more common ones that the oral medicine doctor addresses are yeast infections, salivary gland disorders, cold sores etc.
Radiology
Oral medicine is talked about together with radiology, another department of dentistry.
In the oral medicine and radiology department , the radiology specialist is taking and analysing x-rays. This is an important part of dentistry as it helps in identifying hidden issues in the bone of the jaw. Problems like impacted teeth, deep-set cavities and tooth decay are easy to detect for treatment. Radiology is taught as a separate part of dentistry as it requires a trained professional to manoeuvre. Most dentists use radiology to store the x-rays of their patients in the records and refer to them during check-ups. Generally, new patients are the ones who have to undergo x-rays in the radiology department.
Scope of Oral Medicine and Radiology
The scope of oral medicine and radiology is immense. Where there is an, nationally or internationally, established medical system there will be a need for dentists. Moreover, there are educational degrees till PhD in Oral Medicine and Radiology. A short description of the full scope of this concentration is as follows.
Undergraduate education:
Dentistry education at the undergraduate level is earned through the BDS degree. Normally, the BDS degree is a generalised version where several subjects are taught and only the fundamentals of oral medicine and radiology. However, there are specialised BDS degrees also available. Taught over four to five years, BDS students also go through a training period before graduating. Science students who have at least a 60% aggregate score with a national-level written test score can apply to earn a BDS degree.
Postgraduate education:
After completing the BDS degree, students become eligible for an MDS degree. This is a continuation of dentistry studies but topics are more advanced and concentrated like oral medicine and radiology topics. At this level, students choose an area of dentistry to concentrate on, in this case, oral medicine and radiology. Candidates who have a BDS degree and sufficient aggregate score and have the NEET MDS score can take admission to the MDS degree. Dental colleges offer the MDS degree for three years
International scope
Individuals who have Indian medical degrees can comfortably switch to working in foreign countries. The scope of Oral Medicine and Radiology is dependent on the country. However, most candidates need to study and take written examinations to earn a license. Only after earning the license can they practice as dentists in their specialisation. There is an option to work both in a hospital or set up one's practice depending on the license restrictions and laws.
Jobs after a degree in Oral Medicine and Radiology
Most candidates who have a BDS or MDS degree work as a dentist. However, when the dentist works in a specialised area like Oral Medicine and Radiology, the job profile will change. Some such oral medicine and radiology jobs have been discussed below.
Oral Pathologist:
Oral Pathologists are specialised dentists who handle diseases and infections of the mouth and oral area. Besides identifying and diagnosing different oral issues, the Oral Pathologist will also come up with ways to manage the infection and proper ways to rehabilitate. All Oral Pathologists are dentists but not all dentists are Oral Pathologists as this is a specialisation of dentistry. Hospitals that hire Oral Pathologists offer average salaries of around INR 23,00,000 LPA.
Oral Surgeon:
Oral surgery is a branch of dentistry that is solely about conducting oral operations and surgeries. While most dentists do perform some procedures and minor surgeries, for the harder more complex procedures, Oral Surgeons are brought into the picture. Some procedures that are generally entrusted to the Oral Surgeon are tumours, cancer, facial reconstructions, lacerations, fractures, injuries etc. Online reports state that Oral Surgeons make annual salaries of about INR 10,00,000 LPA.
Oral Maxillofacial Radiologist:
Oral Maxillofacial Radiologists combine their knowledge of dentistry to analyse x-rays captured by the patient. They look for deep-rooted issues like cavities, the jaw and impacted teeth. These x-rays are also used to consult with fellow dentists to get their opinion or if they have a common patient. Based on the diagnosis, the Oral Maxillofacial Radiologist will recommend surgeries or an appropriate treatment plan. This role fetches an average salary of around INR 16,00,000 LPA.
Oral Medicine Specialist:
Oral Medicine and Radiology degree holders can also work exclusively in Oral Medicine. They are also known as doctors of the mouth. Oral Medicine Specialists can treat patients who suffer from any disorder in the mouth. Disorders, here, refer to abnormal growth like ulcers, tumours and cancers but also allergies, infections and disorders of the glands. After an initial check-up, the specialist can order biopsies and tests. Post-treatment or surgeries, the patient is handed an extensive management plan. Most Oral Medicine Specialists earn around INR 8,10,000 LPA.
Conclusion
Oral Medicine and Radiology is a leading specialisation in the field of dentistry. There is always going to be a need for experts who can deal exclusively with oral diseases and disorders. Students with an undergraduate or postgraduate degree in Oral Medicine and Radiology can even seek out work internationally provided they earn a license beforehand. Hopefully, BDS students or school students who wish to become dentists can make the right decision based on the information given here.