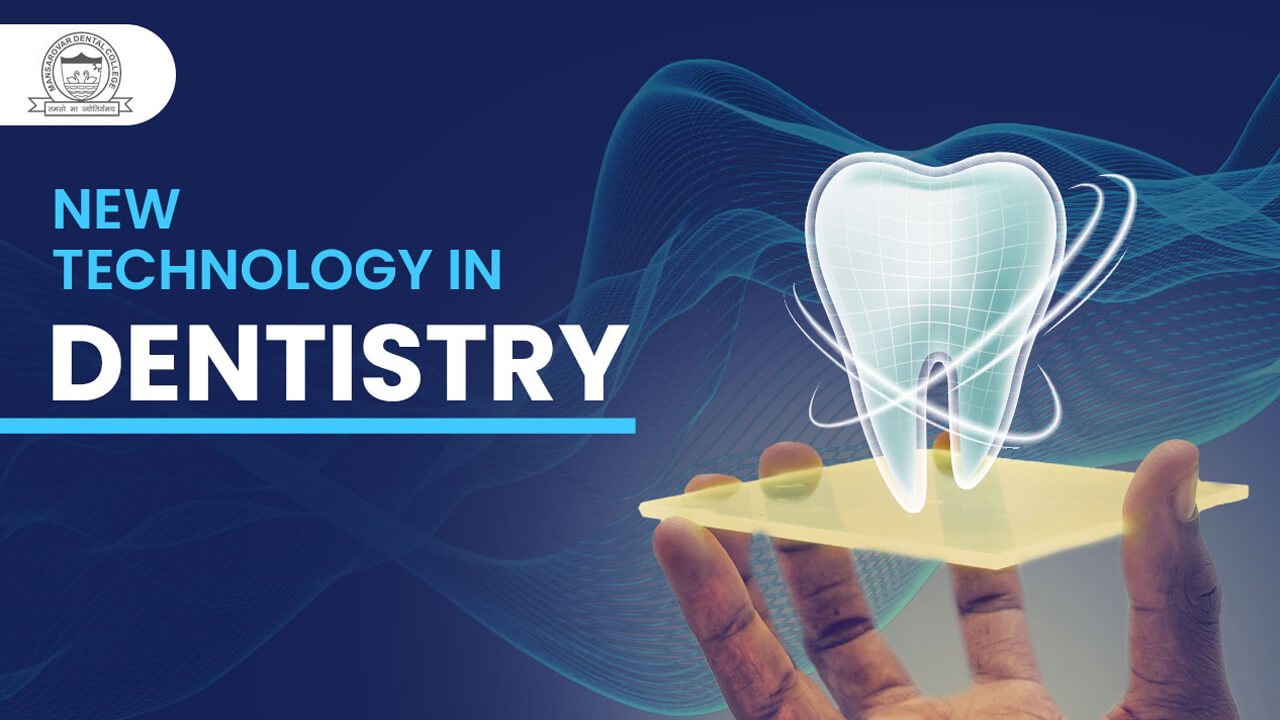 New Technology in Dentistry
Dentist visits are a frightening experience for not only kids but for some adults as well. All the poking, prodding, drilling is nerve-wracking for many. For extensive services like braces and implants, procedures are long-term, painful, and expensive as well. However, there have been many advancements in the field in recent years. As in other medical fields, there have been innovations that have made the whole process of dental surgeries work easy for both the doctor and the patient.
India has several dental colleges and it is a popular discipline among students. Admissions are through competitive examination but the level of competition is fairly high. One of the top dental institutes in Madhya Pradesh is Mansarovar Dental College. It is one of the best dental colleges in MP that has courses at different levels. There is an experienced team of doctors who teach in classes and help develop other essential skills.
Listed below is a list of the Top 10 Technologies in the Field of Dentistry.
New Technologies in the field of Dentistry
Virtual Reality : -
Virtual Reality is quite similar to Artificial Reality but with one main difference: in the case of VR, one is wearing headgear that covers the ears and eyes at the same time. The wearer is fully immersed in the experience of what is being shown. In dentistry, VR is being used by dentists to teach tricks of the trade to students. In a crowded class, it would be hard to observe the teacher's work. VR comes in handy here. VR can also help practice working on patients and develop other essential skills like empathy. This technology has also become much popular during the pandemic with online classes.
Smart Toothbrushes : -
Smart devices have taken over a major place in everyone's household. They control lights, locks, music, curtains and so much more. Smart technology has also extended to the bathrooms as well. Specifically, toothbrushes have transformed into smart toothbrushes now. These brushes have a sensor built in them that sends information regarding the user's teeth to a mobile application. These sensors will tell us when too much pressure is being applied, which areas to concentrate on, and the right method of brushing. Some smart toothbrushes already in the market include the Sonicare Smart Toothbrush and the Kolibree Smart Electric Toothbrush.
Laser Dentistry : -
Laser Dentistry is a method of treating several teeth and gum issues. The method is fast, more effective, and also painless for the patients. Lasers have been used to treat dental problems since 1989. It has had such success that it has now practically replaced traditional drills. Some procedures in which laser dentistry is used are hypersensitivity, lesion removal, tooth decay, gum diseases, and also teeth whitening. It is bloodless and there is no need to take anesthesia. Generally, laser dentistry procedures are preferred for younger patients or any patient who is anxious or stressed out about their procedure.
Intraoral Camera : -
Intraoral cameras are tiny cameras used to take pictures and videos inside the mouth. How often would it be that the patient leaves with a sore jaw because of keeping their mouths open for a long duration during treatment? But now the dentist will be able to check all corners of the mouth on a screen near him. These pictures and videos would also be used by the dentist to inform the patient about the diagnosis and treatment better. Furthermore, these cameras also play a huge role in the education of future dentists. The Intraoral cameras come with LED light and a USB connection that powers them.
3D Printing : -
3D printing has become popular both for home and for commercial purposes. A model of the patient's teeth and gum is created using Computer-Aided Design (CAD) software. This model can be used as prosthetics or to create replicas for teaching purposes among others. In dentistry, 3D printing especially comes in use to create a temporary crown or a cap till a more permanent one is made and put on. A lot of time is saved through this method and the end result is just as accurate.
CRISPR : -
CRISPR is a gene and DNA editing technology that has immense potential. Gene editing can possibly detect and help the fight against cancer or remove birth defects from babies while in the womb. In dentistry, CRISPR can be used to identify and remove oral cancer-causing cells. Studies and research are being done to edit the bacteria in the mouth to prevent diseases like plague. The use of CRISPR will help in detecting the early onset of diseases like caries. Accordingly, the dentist can help the patient in preventing its onset.
DIAGNOdent : -
DIAGNOdent is a handheld device used to scan teeth. This is useful to find hidden cavities on teeth that might have been missed in the x-ray scan. The technology used in DIAGNOdent is a laser. The laser rays will also detect the density of the cavity too. It is the same size as a pen and it has fluorescent lights in them. Even the smallest of lesions on the teeth and also tooth decay can be detected using a DIAGNOdent.
Robotics : -
Robotics has helped immensely in the Medical and Dentistry fields. Robotic arms are used to perform surgeries, especially intricate ones. Here, the robots are usually controlled by an experienced doctor. In dentistry, robotics will help in more precise and accurate procedures. There have been greater success rates for the operations conducted by robots. Human error is possible and unavoidable. However, using robots the chances of damage due to human error are lessened.
Teledentistry : -
Teledentistry is, in simple terms, conducting basic dental checkups and diagnoses over a telephone or video call. There are many reasons why one cannot visit their dentist like work, pandemic, etc. If the person is in a rural area or the patient is elderly, visiting the dentist for regular checkups is hard. Patients can click pictures or talk with the doctor over a video call. After the basic information is collected by the doctor, further doctor visits or medicines are recommended.
Invisalign : -
Invisalign is a recent dental product that has become popular among people. Invisalign are basically clear braces that are used to straighten teeth and bridge gaps. They are more comfortable and are as effective as normal braces. Also importantly, it is hard to detect. Invisalign can be taken off to clean and wear again.
These were some of the most famous and popular technologies used in the field of dentistry. Being a dental student, one must be well-aware of these technologies and gain on-hand experience for a satisfactory output.