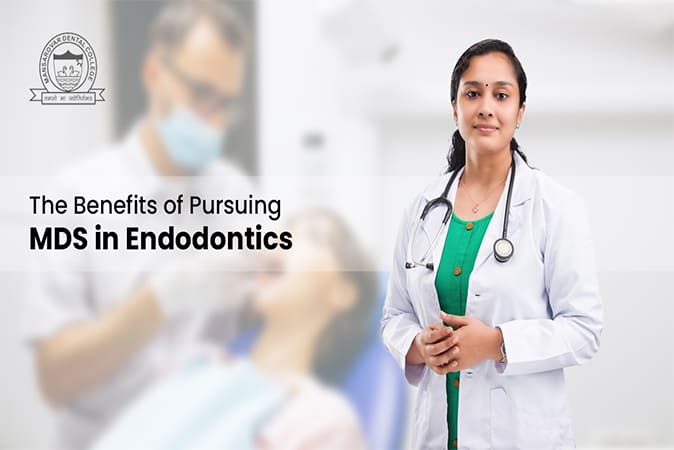 The benefits of pursuing MDS in Endodontics
MDS or a Master in Dental surgery is a post-graduate program that offers extensive and practical knowledge of dental health and related surgeries. MDS in Conservative Dentistry and Endodontics is a specialization offered that focuses on the prevention and care of illnesses and injuries that start in the mouth. It is one of the most popular specializations offered in the dental stream.
Mansarovar Dental College offers BDS and MDS programs with four different specializations, one of which is MDS endodontics. The MDS endodontics expenses for this yearly master's program range from INR 2 lakh to INR 12 lakh. After earning an MDS in endodontics, several employment profiles are open to you, including dental hygienist, professor, clinical research scientist, etc.
Read the whole post provided below and learn the additional advantages of pursuing MDS in conservative dentistry and endodontics.
What are Conservative Dentistry and Endodontics?
Conservative dentistry focuses on the avoidance and treatment of illnesses and wounds that start in the mouth. In this kind of treatment, damaged or diseased teeth are repaired using physiologically suitable materials. The science of treating and preventing pulp and periodontal illnesses is known as endodontics.
The techniques and treatments used to restore damaged teeth to their original form and function are covered in the MDS in Conservative Dentistry and Endodontics program. The course instructs students on how to execute root canal surgeries and related surgical procedures to treat tooth conditions.
The course's curriculum includes topics including bleaching, managing injured teeth, surgical endodontics, root canal therapies, and endodontic implants.
Also Read: High Paying Jobs After MDS In India
Benefits of Pursuing Conservative Dentistry and Endodontics:
You will learn how to preserve and maintain the teeth of your patients with MDS in the Conservative Dentistry and Endodontics program.
You'll discover more about managing damaged teeth, root canal therapies, and other topics.
A competent MDS graduate earns an annual salary of eight to ten lacs per year, while the course costs about four to five lacs.
Additionally, the course will show you how to conduct a full physical examination and recognize dental anomalies and symptoms.
Your ability to do independent research and your interest in cutting-edge therapeutic approaches will both improve as a result of the MDS.
An MDS alumnus or graduate will be qualified to use biologically acceptable materials to repair cracked or diseased teeth and engage in conservative dentistry.
MDS in Conservative Dentistry and Endodontics:
Career Options
There are various career options after you pursue MDS in Endodontics. Below given are some of the career profiles an MDS endodontist can choose from.
Dentist
Average salary: 3-6 lacs
After Completing MDS in Conservative Dentistry and Endodontics, one can work as a dentist in private and government firms and health care associations. A dentist helps fill cavities, remove tooth decay, and fix broken teeth.
They identify and address issues with patients' teeth, gums, and associated oral structures. They offer guidance and teaching on how to maintain healthy teeth and gums as well as diet decisions that may affect oral health.
Oral Surgeon
Average salary: 5-7 lacs
An oral surgeon performs treatments such as treating malignant cysts and tumors in the mouth and neck region, reconstructing birth abnormalities, and treating injuries caused by facial trauma.
Dental lab Technician
Average salary: 2-4 lacs
They create partial or full dentures, either made of metal or non-metal material, to replace natural teeth that have lost some or all of their structure.
They create bridges and crowns to repair natural teeth. Additionally, they produce fixed or removable teeth appliances to address dental abnormalities.
Orthopedist
Average salary: 8-10 lacs
Patients with diseases of the bones, joints, muscles, ligaments, tendons, nerves, and skin are the main focus of an orthopedic surgeon's diagnosis, care, and therapy. This is one of the best domains where an MDS endodontist can pursue a renowned career.
Clinical Research scientist
Average salary: 7-8 lacs
After pursuing MDS, a candidate can work as a clinical research scientist too. If you are interested in research activities and want to explore more in this domain then this career profile will suit you the best!
Clinical research scientists conduct trials that are intended to provide answers to specific queries concerning medicine and behavior.
Academic lecturer
Average salary: 8-9 Lacs
This is one of the best career profiles to choose from after completing MDS in endodontics. An academic lecturer works with educational firms and institutes to train dentists and dental surgeon interns. Being one of the highest paying jobs in the world, working as an academic lecturer is rewarding and beneficial.
MDS in Conservative Dentistry and Endodontics: Career Scope
Over the past few years, technology in the healthcare industry has grown significantly in both the public and private sectors.
The demand for MDS Conservative Dentistry and Endodontics course scope and income in India is rising because of the increased demand for competent and qualified workers in the nation's numerous health care fields. After completing the MDS Conservative Dentistry and Endodontics courses, there are a ton of work options.
There are various domains to work with an MDS endodontics degree. There are:
Private Hospitals
Clinic Centers
Government-Aided Hospitals
Teaching Hospitals
Multi-Speciality Clinics
Defence Services
Health Care Sectors
Also Read: What are the key differences between general dentistry and cosmetic dentistry
MDS in Endodontics: Salary Packages and Job Profiles
According to Glassdoor, depending on the industry, the typical MDS Conservative Dentistry and Endodontics pay in India ranges from INR 2.4 - 19 LPA.
Some of the few employment options following MDS Conservative Dentistry and Endodontics are included in the table below.
| Job profiles | Average Annual Salary |
| --- | --- |
| Dental Consultant | INR 2.4 LPA |
| Dental Assistant | INR 15 LPA |
| Dental Surgeon | INR 19 LPA |
| Private Practitioner | INR 5 LPA |
| Assistant Professor | INR 3.93 LPA |
Conclusion
Dental surgeons can specialize in several fields, with endodontics being one of the most lucrative and well-liked ones. The MDS endodontics program at Mansarovar Dental College is exceptional and of the highest caliber available.
You should take a look at this post if you are interested in this master's program. This will assist you in understanding the advantages and potential growth of an endodontic profession.