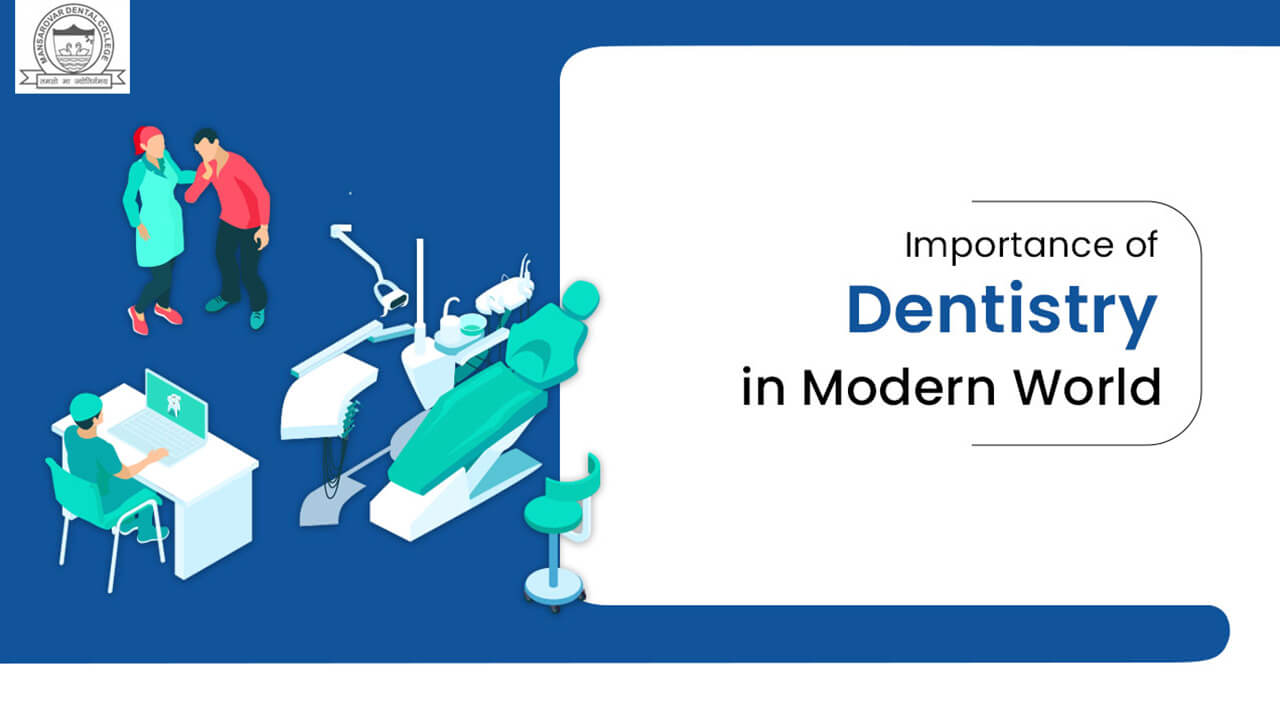 Importance of Dentistry in the Modern World
There's a reason why BDS (Bachelor in Dental Surgery) is the second most studied medical field after MBBS. Dental hygiene is incredibly essential to your overall health, and regular check-ups are a singularly significant way to keep your teeth and gums healthy.
The modern world values the adornment of professional-looking values more than anything, and teeth represent proper hygiene and a professional outlook. This has raised serious awareness in the general public about the need for a regular dental checkup.
If you are late to the party, we have a clear manual for you. Regular dental checks up are now a necessity. Here's why:
6 Reasons Why You Should Visit Your Dentist Regularly
Protecting your smile : -
We love your smile, and we hope you keep it up. The best way, of course, is to be regular at the dentist's office. Dental health is often underestimated against the grand scheme of things. But keeping a clean set of 32s is essential if you want to have a fulfilling personal and professional life.
Early detection of cancer : -
Oral cancer is aggressive and relentless. It can progress rapidly and often goes unnoticed until it's very late. There's only one way to keep it in check, and that is through regular visits to the dentist.
Prevention is better than cure : -
Dentists equip you with vital information with regard to your oral care. Instituting these tips in your daily routine can save your precious teeth from a ton of irreversible damage.
Minimizing expenditure : -
A root canal is cheaper than dental replacement, and scaling is cheaper than a root canal. The price of dental procedures only increases as time goes. It is better to have bi-yearly checkups and keep your teeth in line, or else you will have a long bill with your name on it.
Understanding the changes : -
Our bodies are subjected to intense changes throughout our lives. The habits that sustained us in our 20s won't hold ground in our 30s. The same is with our oral care. Being in regular touch with dental experts keeps us updated on the changing anatomy of our mouth.
Prolonging your natural teeth : -
No matter how many old people you see rocking dentures, they are not an integral part of your growth. You can have healthy teeth until the end of all your life, given you pay proper care and attention to them in the years that matter. Dentists equip you with treatments that aid in prolonging your natural teeth.
There's a world of difference between dentistry of old age and dentistry in the modern world. With the changing times, you need new skills.
The Top Responsibilities of Professionals Pursuing Modern Dentistry
Operating state-of-the-art machinery and equipment.
Being up to date with developing treatments and achieving proficiency in them,
Keeping records of the dental analysis of patients and consulting with peers to figure out the best course of treatment.
Attending seminars and upscaling your skillset.
Working with interns and graduates and mentoring a new cohort.
Developing pain-resistant treatments for patients and publishing journals.
To cope with this demand, dentists have become one of the highest on-demand medical professionals. If you have a knack for any of these altitudes and want to make a difference in the dental world, then you should opt for a BDS degree, a four-year undergraduate degree that transforms you into a dentist. BDS admissions for 2022 have already begun at Mansarovar Dental College, Bhopal.
Still in a doubt. Let's take a walk through to all the reasons why you should pursue dentistry in the modern world:
Also Read: Skills to be a Top Notch Dentist
7 Reasons Why You Should Pursue Dentistry in the Modern World
People struggle with different dental issues on a daily basis. As the number of patients increases, the requirement of a good dentist who can cater to individual concerns is a necessity. Here are some more reasons to pursue Dentistry:
Class of the world of technology and machines : -
The importance of dentistry is not what it used to be. Modern science has made the accommodation of brand new types of equipment and treatments possible for everyone. Today, dentistry is one of the leading choices of occupations in emerging medical students, and the modern world needs a brand new cohort of trained professionals who can uphold the honor of dentistry as it matches with the changing times.
Premium status and professional recognition : -
Dentists belong to an elite field of professionals who stand apart from the crowd. There is great recognition in this field that can only be compared with doctors and post-graduate professionals.
Competitive pay-check : -
Dentists can make a handsome living within the first few years of their graduation. Unlike other doctors who must complete their residency rounds, dentists can get their gig-going immediately. Within a couple of years, you can plan a comfortable life for your family and yourself.
Manageable working hours : -
As a dentist, you don't have to be on call all the time. Having manageable hours can help you have a proper and balanced life.
Intricate and focused work : -
Dentists are focused on intricate work that sets them apart from the rest of their tribe. There's a lot of intricacy and fine work in their everyday schedules, and not everyone can accomplish it. If you have a passion for detailed work, then dentistry is just the profession for you.
Entrepreneurship : -
A majority of dentists venture on their own instead of joining a hospital. Opening a practice is the ideal path for many BDS graduates. But opening a practice is more than performing surgeries. It is the entire gig about entrepreneurship that is both challenging and rewarding.
Deep relations with the community : -
Establishing a clinic in your community is a great way to build deep abiding relations with the people of your community and become their go-to expert. This helps in expanding your practice and maintaining dozens of regular clients.
Also Read: The future of Indian Dentistry
In Conclusion
Dentistry is one of the largest chosen streams for emerging medical students. Thousands of students are becoming a part of their profession that has as much prestige as a regular doctor without the crazy hours. If you have a liking for dexterous work and love serving your patients with a brand new smile, then dentistry of the modern world is the right place for you.