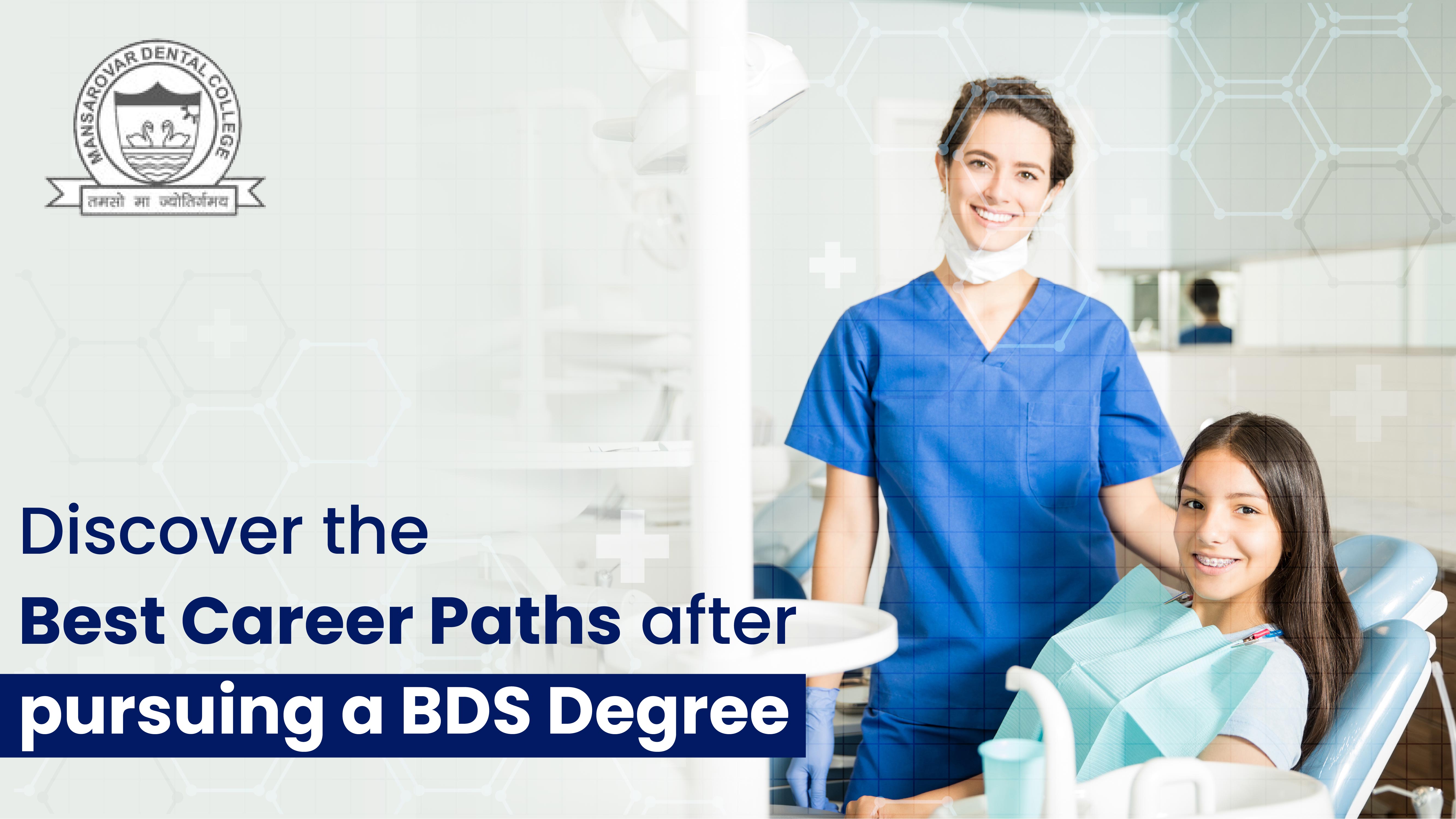 Discover the Best Career Paths after pursuing a BDS Degree
Studying dental science is currently popular among students due to the rise in public demand for improved oral health. Therefore, a total of 26,000 dentists graduate from India's almost 309 dental colleges per year. And one of the most coveted degrees for dentists is the BDS, which is regulated by the Dental Council of India (DCI). But are you unsure of the fantastic career paths for BDS students? In that case, you can get a lot of helpful information by reading this blog.
About a BDS Program
A Bachelor of Dental Surgery is the only recognized professional dental training program in India that focuses on educating and exposing students to dental sciences and procedures. By adhering to an updated curriculum and first-rate education, the Mansarovar Dental College in Bhopal provides the best BDS programs in India. Below are some details associated with its study program:
Course Level
Undergraduate
Duration
4+1 (One year of mandatory internship)
Eligibility Criteria

10+2 with a 50% overall grade in Physics, Chemistry, and Biology for the general and OBC categories. Nonetheless, candidates belonging to SC/ST categories who reside in Madhya Pradesh and have a cumulative grade point average of 40% in the aforementioned subjects are eligible to apply.
They must reach the age of 17 by the end of the year in which they are admitted to the BDS program.
Only applicants who have passed the NEET exam are eligible for admission.

Average Course Fee
Ranges between INR 1.5 to 2 LPA.
What are the Diverse Career Options for BDS Graduates?
The following possibilities are among the most well-liked when discussing the amazing career paths for BDS students:
Pursue a Master's Degree in Dental Surgery
The highest degree of training in dentistry is a Master of Dental Surgery, which can help you find employment as a dentist in a reputable setting. Also, depending on your interests, you can choose to specialize in areas like prosthodontics, orthodontics, operative dentistry, conservative dentistry, etc during an MDS program.
Also Read: The Benefits Of Specializing In Certain Field Of Dentistry With a BDS Degree
Turn Into a Lecturer
Becoming a professor or lecturer is one of the finest career paths for BDS students, where you will have the chance to teach others about dentistry. Also, working in dentistry can provide you the opportunity to network with higher authorities and create new prospects.
Consider a Career in Research
After completing a BDS course, you can benefit from starting a career in research, particularly in the areas of oral biology and oral cancer. Also, you will do research and analysis on the efficacy of drugs, medical devices, therapeutic approaches, and medical equipment, which could ultimately help in the creation of new drugs. Moreover, employment in this field enables one to work at renowned medical institutions.
Become a Dental Blogger
While doing your full-time job as a dentist, you may start a side business as a dental blogger. For those who are passionate about writing, this might be an intriguing professional option. As a dental blogger, you can build your website and begin educating people about different dental topics.
What Significant Effect can the Indian Dental Care Sector Have on Career Paths for BDS Students?
India's dental care industry, which was valued at $653 million in 2022, is anticipated to increase at a 9.40 percent compound annual growth rate (CAGR) from 2022 to 2030 and reach $1339 million in 2030. In addition to this, the growing awareness of dental appliances and other treatments can open up multiple prospects for BDS graduates.
Top Job Opportunities after BDS in India
| Job Roles | Responsibilities |
| --- | --- |
| Dental Hygienist | The primary tasks of a dental hygienist are initial patient exams, teeth cleaning, and counseling patients on preventative care and oral health. Besides these, they also assist dentists in handling dental emergencies and choosing treatments for gum and tooth disorders. |
| Dental Surgeon | A dentist with greater training who provides oral diagnostic and preventative care is known as a dental surgeon. He or she might have particular expertise in several dental, jaw, facial, and mouth operations. However, tooth extractions, wisdom tooth removal, oral tumor removal, and jaw realignment surgeries are among their major medical treatments. |
| Oral Pathologist | Diseases affecting the oral and maxillofacial regions are examined, diagnosed, researched, and treated by oral pathologists. Through research and examinations, these specialists can assist in the diagnosis and treatment of illnesses and diseases |
| Dental Scientists | They identify and take care of issues with patients' teeth, gums, and other oral health issues. Moreover, they offer suggestions and guidance on how to take care of the teeth and gums as well as diet decisions that might affect oral health. |
Also Read: What are The Best Career Options After pursuing Community Dentistry
Why pursue BDS at Mansarovar Dental College in India?
It provides a special chance for students to get involved in diverse R&D initiatives in collaboration with various outside organizations.
The site offers a tranquil setting for educators and students to educate, learn, develop their talents, and grow as people.
The college has a strong anti-ragging program with a complaint form that is accessible both online and offline.
It comprises an auditorium that can accommodate over 800 people and two halls to let students display their innate talents.
Conclusion
Summing up, those with a BDS degree have a bright future in academia, research, and government agencies. Moreover, 2.7 lakh dentists are listed as members of the Dental Council of India, making it the nation with the second-highest number of dentists in the world (DCI). Furthermore, the magnitude of the dental care market and the proliferation of dental recruiters highlight the straightforward career paths for BDS students in the nation.
FAQ's
1. How would you assess BDS as a career option in India?
BDS as a career option in India has excellent employment prospects in both commercial and public hospitals, as well as in dental institutions. Also, the course's focus is in high demand, and graduates will receive competitive pay packages.
2. Which other countries offer the best opportunities to BDS graduates?
USA, Germany, Switzerland, Canada, Norway, and Spain are among the top nations where you can explore the best opportunities as a BDS graduate.
3.Which area of dentistry is the best?
Their responsibilities include assessing and diagnosing the patient's problems, writing a treatment plan to properly manage the case, and making clinical judgments based on the evidence they have obtained. Also, they need to work in the dental clinic with minimum supervision and master the fundamentals of TENS, Ultrasonic, and Laser therapy.
4. What kind of mirror does the dentist use?
Concave mirrors are frequently used by dentists to view teeth and other parts of the mouth because, when an object is focused on, they create a virtual, erect, and magnified image of it.