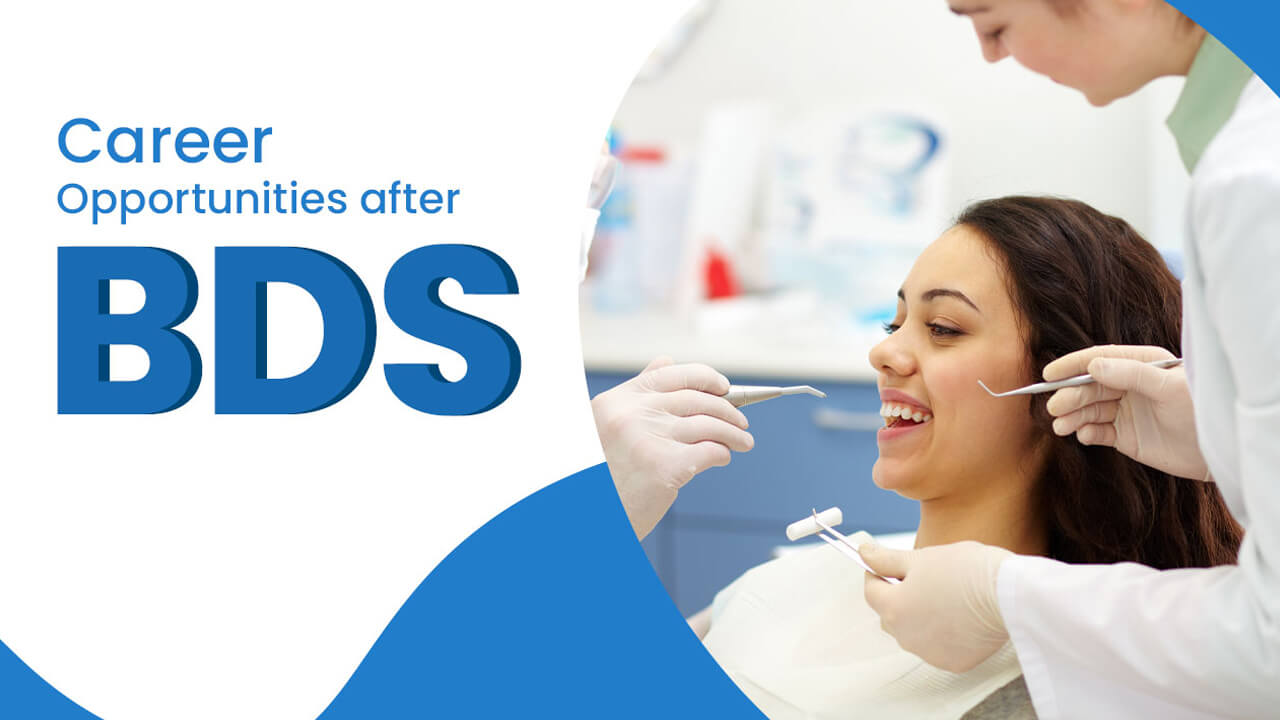 Career Opportunities after BDS
Bachelor of Dental Surgery, BDS is a professional course that covers a wide range of topics in oral health care and provides both theoretical and practical training. After 12th grade, BDS is one of the most sought-after professional courses. Students hunt for the most effective employment alternatives for a BDS graduate after completing a Bachelor of Dental Surgery.
Before entering dentistry, a student doesn't usually have a clear idea about what kind of challenges they might face. As a result, a dentist should be aware of the employment opportunities available after completing their BDS. Here in this article, we will tell you about all the possible career options after BDS and job opportunities after BDS. Read on! Internships play a significant role in helping you explore the domain that interests you in dentistry.
Join a PG course after BDS to pursue higher studies
MDS after BDS : -
After completing BDS, a student can pursue a Masters of Dental Surgery by passing the NEET test and enrolling in either a government or private medical school. The advantage of obtaining a Masters of Dental Surgery is that it will provide you with additional clinical knowledge that you may apply in your practice.
MBA in Hospital Management : -
MBA programs are becoming increasingly popular among BDS graduates. The majority of them are pursuing an MBA in Hospital Administration, while others are seeking other MBA domains.
Masters in Public Health after BDS : -
MPH after BDS is another possible professional path for dentists, similar to MBA. The biggest draw of this profession is the possibility of settling overseas. Many businesses and government agencies are looking for masters in public health graduates.
Make Teaching your career by Becoming a Lecturer
After earning a Bachelor of Dental Surgery, one of the most popular career options is to teach in a dental school. You will also learn and get an opportunity to prepare for PG or NEET examinations by doing so. The time and salary could also be used to start your lucrative dental practice. You can pursue MDS to become a senior lecturer and expect exponential career growth in teaching following your own Masters of Dental Surgery. For a BDS graduate, this is also one of the top employment alternatives.
Start your Dental Clinic after BDS
Having your dental clinic is an excellent alternative for a career after BDS, as it is a very lucrative field. But you'll have to put in a lot of money before you can expect a significant return. Also, it would help if you did your homework on where to open and how competitive the area is. To understand how to manage patients, finances, expenses, and treatments, it is suggested that you join a private clinic after completing your BDS to learn the whole process and operations of running a successful clinic.
Working as a Dentist in a Foreign Country
BDS scope abroad is very high. It is a fantastic career opportunity that should not be missed. However, each country has its own set of norms and exams that must be passed to work or practice in a foreign land.
USA : -
In the United States, a dentist must first give the National Board of Dental Examination Part 1 and 2 exams. After passing, he or she must enrol in a dental school and receive a DDS (Doctor of Dental Surgery), which is a recognized dental degree in the United States.
New Zealand : -
A foreign dental degree is not recognized in the country. To register with the Dental Council of New Zealand, one must pass a qualifying exam called the New Zealand Dentist Registration Exam (NZDREX).
Canada : -
To be eligible for practising dentistry in Canada, a foreign dentist must complete a sequence of steps/exams and pass them to become a legally certified dentist.
Australia : -
To work as a licensed dentist in Australia, you must undergo an evaluation process that formally evaluates and reviews your qualifications, dental topic knowledge, and clinical experience in dentistry. The Australian Dental Council (ADC) conducts this evaluation in three steps. To qualify, you must complete all three phases. Only after passing the ADC you will be able to apply for a DBA dental license (Dental Board of Australia). Your application for dentist license registration will be reviewed, and the Dental Board will make a final decision of Australia.
Singapore : -
ou must have a dental degree recognized by the Singapore Dental Council to practice dentistry in Singapore.
UAE : -
To work in Dubai, you'll need a Department Of Health licence from the Dubai Health Authority, which is part of the UAE's Ministry of Health. If you have finished a BDS programme with a one-year internship at a teaching hospital, you can sit for the Dental GP test. If you have not gone through your internship, you must complete two years of practice in a non-teaching hospital.
Career in Gulf Countries
This is a great job option after BDS because it is affordable and straightforward to travel to any Gulf country. A BDS's salary will be between Rs. 80,000 and Rs. 1.5 lakh. The candidate must pass the MOH (Ministry of Health) exam, which is not particularly tough. This will allow you to work in the government sectors of Gulf countries. We have the option of making a good living there and then returning to your location to start an excellent dental business.
Government Job after BDS as a dentist
The federal and state governments have a few openings for dentists in various areas, with the possibility of a temporary rural posting followed by a permanent position, depending on the departments. Employment in a government sector is a safe bet, with benefits including insurance and retirement plans.
The following is a list of government dentistry jobs
Dental Corps of the Army
In the Indian Army, he is a Territorial Officer.
In the railway industry.
As a Dental Officer, join the Indian Navy or Air Force.
Jobs in the State Government, such as Dental Surgeon.
Dental Blogging after BDS
This is a fantastic career option for those who have completed their BDS. You may want to teach, learn, and earn at the same time. You can start a blog for dentists and dentistry students to post well-researched articles, videos, and news. This way, Google, sponsors, affiliates, and others can pay you while you have time flexibility.
Clinical Research
India is Asia's second-largest pharmaceutical market. As a result, pharmaceutical companies outsource a wide range of research services, making it a lucrative vocation. Principal Investigator, Co-investigator, Medical Advisor, Drug Developer, Regulatory Affairs Manager or even Clinical Research Physician are some of the career options accessible to a BDS graduate in this field.
A Career in Dental Cosmetology
In today's environment, people are growing increasingly aware of their appearance. They are not averse to spending a significant amount of money to make themselves look nice. As a result, clinical cosmetologists are in higher demand. The cosmetology course will assist you in getting vast knowledge and expertise in cosmetology treatments, allowing you to become specialists in the field.
Conclusion
After BDS, a student has a wide range of employment opportunities to choose from. Furthermore, becoming a dentist is one of the most prestigious experiences one can have. It is entirely dependent on one's personal preferences and priorities. So, before deciding on the future, one should carefully consider all options.
Dental science is an excellent subject to study if you want to become a dentist or a dental surgeon. Dental colleges can be found throughout various states, cities, and towns in the country. According to our surveys and media reports, some of the top dental colleges in India are Mansarovar Dental College, Bhopal, Modern Dental College & Research Centre (MDCRC), Indore, Maharana Pratap College of Dentistry & Research Centre (MPCDRC), Gwalior etc. You may check all about these colleges in detail with collegedunia.com or by visiting their official website.