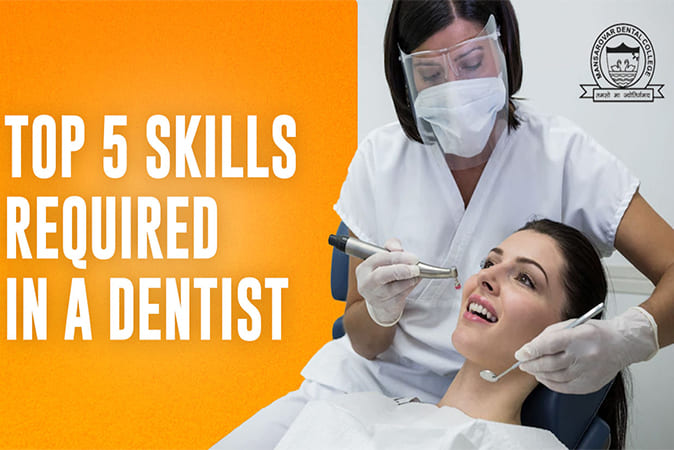 Top 5 Skills Required in a Dentist
The field of medicine is diverse. For many people, it may only mean MBBS. However, the field of medicine is vast and holds a lot of specializations. One of the fastest-growing branches in the medical field is dentistry.
Just like your physical health, your oral health is equally important. Harmful bacteria can grow in your mouth and result in various illnesses. Oral health is something that should be maintained in order to maintain health. Keeping your teeth and tongue clean is the first step to maintaining your health, as they are the first step toward a healthy diet. Colleges like Mansarovar Dental College in Bhopal offers courses in dentistry. Here's all you need to know about oral health, dentistry, and the skills required to become a dentist.
What Is Oral Health?
Oral hygiene is the practice of keeping the mouth clean. It helps keep the mouth free of diseases and other oral issues, like bad breath, plaque on teeth, cavities, and more. Maintaining good oral health includes brushing and flossing teeth regularly and visiting the dentist from time to time. There are many types of oral diseases, while the most common ones are tooth decay, periodontitis, and gingivitis.
Also Read: Top & Reasons Claiming the Importance of Mental Health
Dentistry And Oral Health
To prevent oral health issues, dentistry is the solution. If you are thinking about how to maintain good oral health, here are a few ways to do so:
Visit The Dentist At Least Twice A Year
Although many people brush daily, it is important to visit a dentist to maintain overall oral health. Regular checkups and cleanings twice a year help keep teeth and gums healthy and clean. Dentists also detect the smallest of oral problems and offer effective treatment.
Brush Your Teeth Before You Go To Sleep
A general recommendation is to brush at least two times a day. However, not many people follow the routine and avoid brushing their teeth at night. While brushing your teeth in the morning is a good habit, as it eliminates bad breath and keeps your mouth fresh, brushing before going to bed helps get rid of plaque and germs that accumulate on your teeth throughout the day.
Clean Your Tongue Properly
Nowadays, brushes come with tongue cleaners at the back. This is because it is very important to keep your tongue clean along with the teeth as it prevents plaque build-up, which can cause oral diseases.
Increase Your Water Intake
Water is the best drink to maintain overall health. It is recommended to drink water after every meal as it helps wash out acidic and sticky foods and the negative effects of beverages in between brushes.
Reduce Acidic And Sugary Food
It is important to reduce the intake of acidic and sugary foods. This is because sugar ultimately converts into acid in the mouth, which increases the chances of erosion of the enamel of the teeth. This acid results in cavities. Other foods like tea, coffee, and acidic fruits can negatively affect the tooth enamel. While you can still consume these foods, make sure you are taking them in a limited amount.
Skills Required To Become A Dentist
There are a lot of dentist skills that one requires to become a successful dentist. Here are 5 major skills required to become a dentist:
Dexterity
A good eye-hand coordination is important for a dentist to ensure the safety and best treatment of the patient.
Professionalism
Although dentistry is a medical profession, it still requires professionalism. Maintaining a professional persona is important to become a successful dentist. One must be honest, reliable, responsible, competent, patient, and stay calm under pressure.
Critical Thinking Skills
This skill is very important to become a good dentist. Critical thinking is the art of using reason to analyze various ideas and realize their true potential. This skill helps in facing difficult situations calmly and finding an effective solution to them. It is important to understand the patient's situation and work on options to make it better for them. This helps in improving the patients' oral health.
Excellent Judgment
One cannot be 100% right while performing a task, and so is the case with the medical field. A dentist may be knowledgeable, but may not know everything. It is important to accept that you may not know everything and accept a mistake if they commit one, like choosing a junior dentist or a staff member. The practice here is to learn and immediately correct the mistake.
Continue Expanding Knowledge
Medicine is a field wherein it is not possible to learn everything in a few years. It requires continuous practice and learning to become a good dentist. One can exchange knowledge with colleagues and continue to expand their knowledge of dentistry to bring more and better solutions for their patients.
Scope And Career In Dentistry
Dentistry has grown as a popular career option among students. It has emerged as an important part of the medical sector. It is an excellent career option as it holds various amazing opportunities for you. However, you must possess a degree in dental surgery before you go on to become a dentist. The most common course herein is Bachelor in Dental Surgery.
Dentist Job Description
The role of a dentist is as follows:
To diagnose and treat dental issues.
Improve patients' oral hygiene.
Applying helpful agents to the patients' teeth, like whiteners, sealants, and more.
Using dentist tools, like drills, brushes, probes, and more to examine and treat teeth correctly.
Doing proper diagnostics to provide the best treatment to patients.
Do extractions, fillings, and root canals.
If you are thinking about how to become dentist, you simply need to pursue a degree in dentistry and get a good job in a dental clinic or hospital. It is important to get a certification in dentistry so that you know everything about it in and out. You can easily find colleges offering you well-equipped laboratories for practicing the latest dental surgeries and treatments. Find a BDS college that suits your needs.
Good colleges use different modes of teaching and learning activities, like fixed learning modules with an integrated way of teaching, problem-based learning, and case-based studies. There are a lot of colleges that use the latest teaching techniques to give their students the best learning experience. It is important to choose a dental college that is affordable, offers the best education, and has good placement opportunities.
Conclusion
Among many branches of the field of medicine, dentistry is emerging as one of the most popular ones. It is very important to take care of your oral hygiene as your mouth is the first step to improving and maintaining your overall health, as bacteria and infectious elements can enter your body through your mouth. This makes dentistry important.
There are many measures one can take to improve and maintain good oral health. Some of these measures are increasing water intake, visiting a dentist at least twice a year, brushing teeth before going to sleep, cleaning the tongue properly, and more.
If you are aiming to become a successful dentist you must possess skills like professionalism, dexterity, critical thinking, excellent judgment, continuous reading and knowledge expansion, and more.
Dentistry is growing at a fast rate and has emerged as a popular career in the field of medicine opted by most students. If you want to make a career in dentistry, you need to possess a degree in BDS. You can find many medical colleges offering the degree, but you must ensure that the selected college meets all your requirements. So, list, shortlist, and enroll in the BDS college that suits you the best and make a career in dentistry.