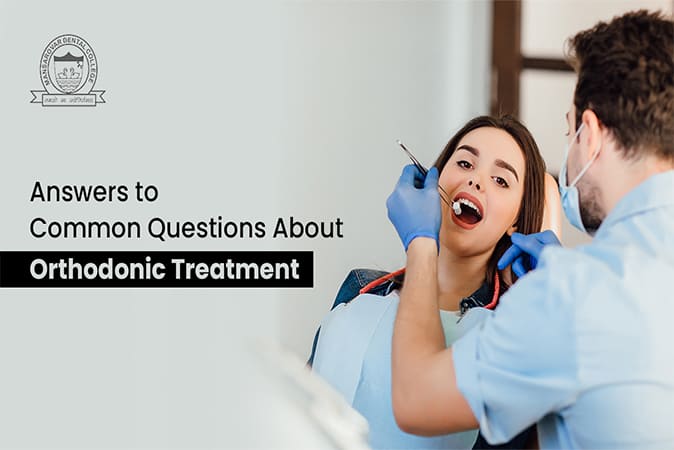 Answers to Common Questions About Orthodontic Treatment
Orthodontic treatment is a new and innovative way to get the perfect shape of teeth. This treatment helps those people who have uneven shapes of teeth. During the treatment process, patients have plenty of doubts. In this article, we will in-death discuss orthodontics important questions that move around your mind while Orthodontic treatment. But before that, it is important for you to know more about orthodontics in depth.
As you know, the medical sector is a vast one. As it studies about the human body, works on the problems and treatments, and prevents them, it has a lot of branches taking care of the same for different areas of the human body. The following are the branches of the medical sector:
ENT
Internal Medicine
Orthopedics
Pediatrics
Obstetrics and Gynecology
Radiology
Dermatology
Ophthalmology
Family Medicine
Pathology
General Surgery
Anesthesia
Chest Medicine
One of these branches is dentistry, and its importance is rapidly spreading among the masses like wildfire. Dentistry or dental medicine or oral medicine focuses on the teeth, gums, and mouth. It can be termed as the study, diagnosis, prevention, management, and treatment of diseases, disorders, and conditions of the mouth.
Shifting the focus to dentistry, there are many sub-branches of the same. These are as follows:
Orthodontics
Endodontics
Prosthodontics
Minimal intervention dentistry
Periodontics
Oral Pathology
Pediatric Dentistry
Public health dentistry
Oral and maxillofacial surgery
Oral medicine
While all these sub-branches have their unique role to play, orthodontics has been growing at a good pace. Here's all you need to know about orthodontics and answers to common questions asked about orthodontic treatment.
Also Read: 5 Types of Dentists - Know which is best for you?
What Is Orthodontics?
It can be termed as a dentistry specialty that works towards the diagnosis, management, correction, and prevention of misplaced jaws and teeth, and misaligned bite patterns. It also works towards the modification of facial growth, called dentofacial orthopedics.
Why Orthodontics?
If you think orthodontics is still not that important, here are some fun facts about the same:
Braces are not new. In fact, they are about 300 years old. If you dig deeper, orthodontic devices can be traced back as far as Ancient Egypt.
Our teeth don't remain the same, they keep shifting forward throughout our lives. This means that with age, the front of our mouths will look more crowded
The best age to start orthodontic treatment is 7; however, people don't visit orthodontists until they reach adolescence.
The alloy that is being currently used to make braces was developed by NASA. See how important orthodontics is to them?
Benefits Of Orthodontics
During the course of BDS and MDS, students get to learn more facts and practical knowledge about Orthodontics as it is one of the main sections of their course. In order to be a perfect dentist, you must enroll in some top-notch dental colleges like Maulana Azad Dental College, Mansarovar Dental College, and so on. There is great importance of orthodontics in our lives. When you see a perfect smile, there can be two reasons behind it- genetics or orthodontic treatment. Orthodontics does not only give a perfect smile to your face, but regular checkups and timely treatments also reduce the risk for gum disease, tooth decay, speech impairment, loss of bone structure in the jaws, chewing problems, and much more.
Here are some benefits of orthodontics:
Takes Care Of Teeth Alignment
Overcrowded teeth are a common issue among individuals of all ages. However, it is important to have proper dental alignment, as it becomes difficult to clean overcrowded teeth, which can lead to other dental issues. Other problems like bruxism can occur if the teeth are not aligned properly. Braces are the solution to this problem. They align your teeth and prevent them from tooth decay and gum diseases.
Corrects Jaw-Related Issues
Apart from aligning your teeth right, orthodontic treatment also aligns your bite, establishing an ideal jaw placement. It is important to correct the jaw alignment as a misaligned bite puts stress on the jaw, which can cause related disorders over a period of time.
Prevents And Treats Other Oral Health Issues
An improper teeth alignment can cause improper chewing, which can also lead to digestive issues and other similar issues, which can lead to poor nutrient absorption. Orthodontic treatment helps prevent the risk of developing such issues.
Answers To Common Questions About Orthodontic Treatment
People ask a lot of orthodontics important questions. So common questions and answers are as follows:
1. What are the orthodontic treatment options?
Ans. The most common orthodontic treatment is metal wires and brackets. However, standard metal braces are also used, but they are smaller now than before. Another option is ceramic braces that are similar to metal braces. The difference is that the brackets and wires of ceramic braces are tooth-colored. There are more options available, such as lingual braces, invisible braces, headgear, elastic, and retainers. Each treatment has its own advantage, but it is important to see which treatment is right for you.
2. How long do I need to wear braces?
Ans. Braces for an average individual can last anywhere between 1 and 2.5 years; it can be shorter or longer than this time, depending on various factors, such as how much the individual's teeth need to be moved, how well the patient is cooperating, type of treatment, and more. Maintaining good oral hygiene, following the orthodontist's instructions properly, attending appointments timely, and avoiding foods that can damage your braces or harm your teeth can help you shorten the treatment time.
3. Which orthodontic treatment procedure works faster?
Ans. Orthodontic treatment depends on your teeth and jaw alignment and the issue you are facing. The orthodontist makes a treatment plan to work on the issue and recommends the fastest treatment based on the same. However, as mentioned earlier, following the orthodontist's instructions properly, maintaining good oral hygiene, attending appointments timely, and avoiding foods that can damage your braces or harm your teeth can help you shorten the treatment time.
4. How often will I have to see the Orthodontist while I have braces?
Ans. This depends on the severity of the issue. It also depends on how much you are following the treatment plan and the type of treatment you have chosen.
5. What is the best age to get braces?
Ans. There is really not a fixed age to get braces. People of all ages can get it. However, there are time braces that can have the best effect, which is for individuals aged between 10 and 14. This is because, after puberty, bones and cartilage are less soft, and so the teeth do not move easily.
Conclusion
There are many questions people have regarding orthodontics. Read the common questions and answers mentioned above and learn the importance of orthodontics. Mansarovar Dental College is one of the best dental colleges in India that is best known for providing the best education to all deserving dental students. Their courses are designed according to the advanced requirements of the medical sector.