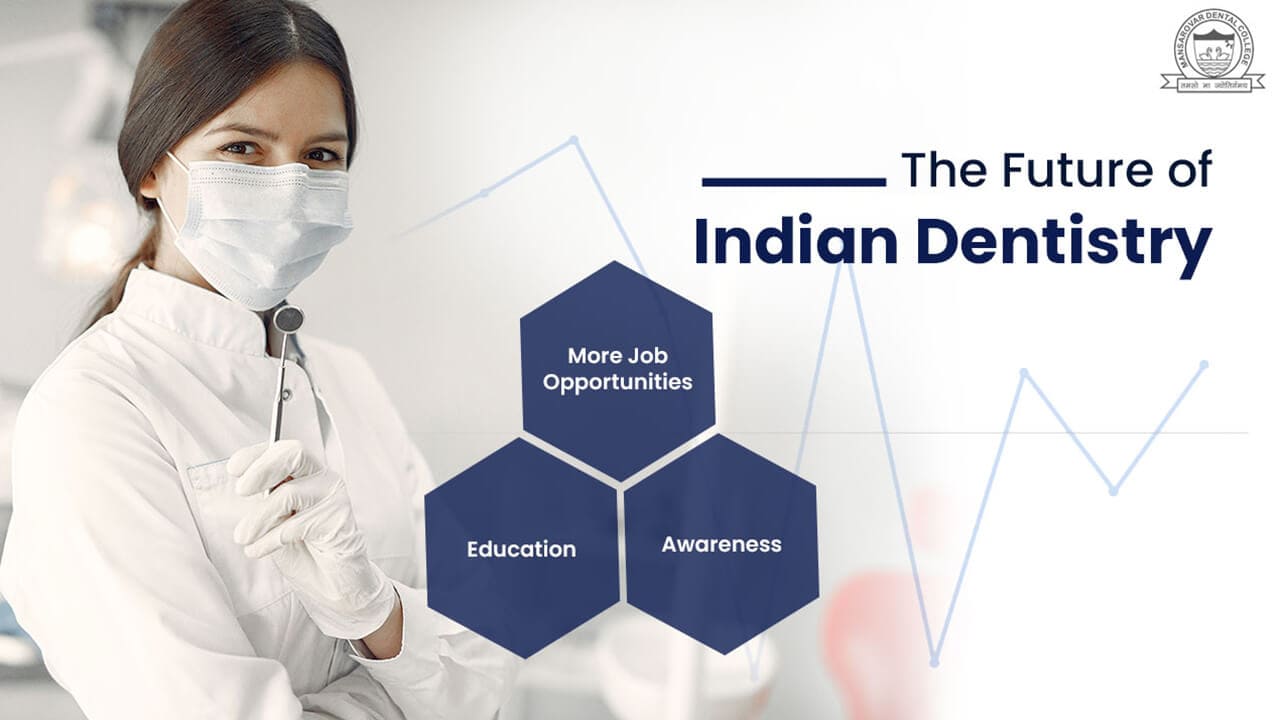 The Future of Indian Dentistry
Joining the medical field is the dream for many Indian students. Students would spend years preparing for the competitive entrance examinations. Scoring a rank among the lakhs of applicants in order to study at a well-ranked college is hard. Every year many fresh graduates join the line to stand a chance at being able to work as a dentist.
One such dental educational institute is the Mansarovar Dental College. It is a leading dental college that has both BDS and MDS degrees. With a modern infrastructure-equipped campus, students here are trained with state-of-the-art facilities. After graduating from Mansarovar Dental, students get a chance to work in top hospitals and clinics.
Before being able to work in a full-time capacity, an average dentist faces many challenges in India. Written below how the present challenges will shape the future of the dentistry field in India.
Present Status of Indian Dentistry
The present status of Indian dentistry is quite unique. India has the highest number of dental graduates in the country who have registered with the Dental Council of India. This number is only expected to rise as the central and state governments are setting up more medical colleges across the country.
More specifically, there are 313 dental colleges out of which annually around 27,000 students graduate. Out of these, there are 40 Government colleges and they account for 11% of the total graduate population. In the year 2020, India managed to achieve close to the WHO recommended dentist-patient ratio of 1: 7,500; India scored 1:5,000.
Even though there has been a worldwide pandemic in the past two years, Indian dentistry has not slowed down. There have been many achievements so far. The number of graduates from dental courses has stayed the same. However, this leads to a new question, how will the future look like for the dentistry industry.
Challenges
In India, the dentistry industry is large but also faces many problems. To discuss the scope and future of dentistry, it is pertinent to discuss the problems. Discussed below are some of the top problems that dentistry graduates in India face after completing the BDS Course or MDS Course.
Unorganized : -
One major issue of the Indian dentistry field is that it is quite unorganized. Any average Indian street will have a number of stand-alone dentist clinics. Due to this, there are price wars among clinics. Since there is a general lack of knowledge of dental procedures and pricing, people end up forking a huge amount of money for treatments. Moreover, this leads to more ethical problems
Lack of knowledge : -
Despite there being such a large number of dental college graduates, there is a lack of spread of knowledge among the general public. India is one of the leading countries for oral cancer and other diseases. Reports state that more than 95% of the population have cavities and other diseases even after regular brushing. Moreover, dentistry services have penetrated only about 2% as compared to USA's 80% in the country.
Standardization : -
As a continuation of the above-stated challenges, there is a lack of standardization in the Indian dentistry domain. There are no set prices for procedures and treatments. Patient data should be saved for future use and procedures. Due to this, there is a distinct absence of predictability of prices. Not just prices, this factor also affects the quality and the procedure being conducted.
Myths and fears : -
India is a country that operates on fears and superstitions. How many times have we put off going to the dentist because someone we know had a hard time during one dentist visit? Unfortunately, this causes people to wait for the absolute last minute to get treatment leading to more problems. Thereafter, there is also the myth that dental treatments are expensive and will burn a significant hole in the pocket.
Solutions
The problems in the dentistry domain in India are complex and the solutions to counteract them are also complicated. These problems cannot be possibly altered overnight. However, some steps can be taken in that direction which is as below.
Education and awareness : -
There is a great need to educate the general public about dental diseases and treatments. Campaigns need to be created so that people know that dental issues must be addressed as quickly as possible and that it is nothing to be ashamed about. If education can be started at the school level, it would be better.
Better Government control : -
To ensure uniformity in treatment and services, there should be more rules and regulations. There should be a ceiling fixed on prices for different procedures. Moreover, the scope of work that can be practiced in private clinics should be under the scanner. There should also be checks to ensure the practices are being run in an ethical manner.
More job opportunities : -
Just as there are a number of dentists graduating from medical colleges, they should be absorbed in proper jobs. Setting up hospitals and clinics in not just the urban but also rural areas is a must. There has been a mass exodus of intelligent people to foreign countries. The only way to prevent this is to create more jobs.
Future of Indian Dentistry
The future of dentistry in India is anything but dim. Much of the same trends present now is expected to stay constant in the upcoming years. For instance, the ratio of dentists to patients will remain the same or increase a bit. This is due to the increase in population in the country. Moreover, dental courses in India will also gain more and more students.
Thereafter, jobs are expected to rise due to an increase in the dental clinic chains. These chains use aggressive marketing techniques and hire many dental graduates every year. However, due to this individuals who wish to set up their own practices will face difficulties as competition would be tough.
The dental industry in India is massive. There are many individuals going through a rigorous admission process for a chance to become a dentist. There are many challenges to overcome to make a sustaining mark in the field. However, for the upcoming BDS admissions 2022, there is still much to explore and discover.