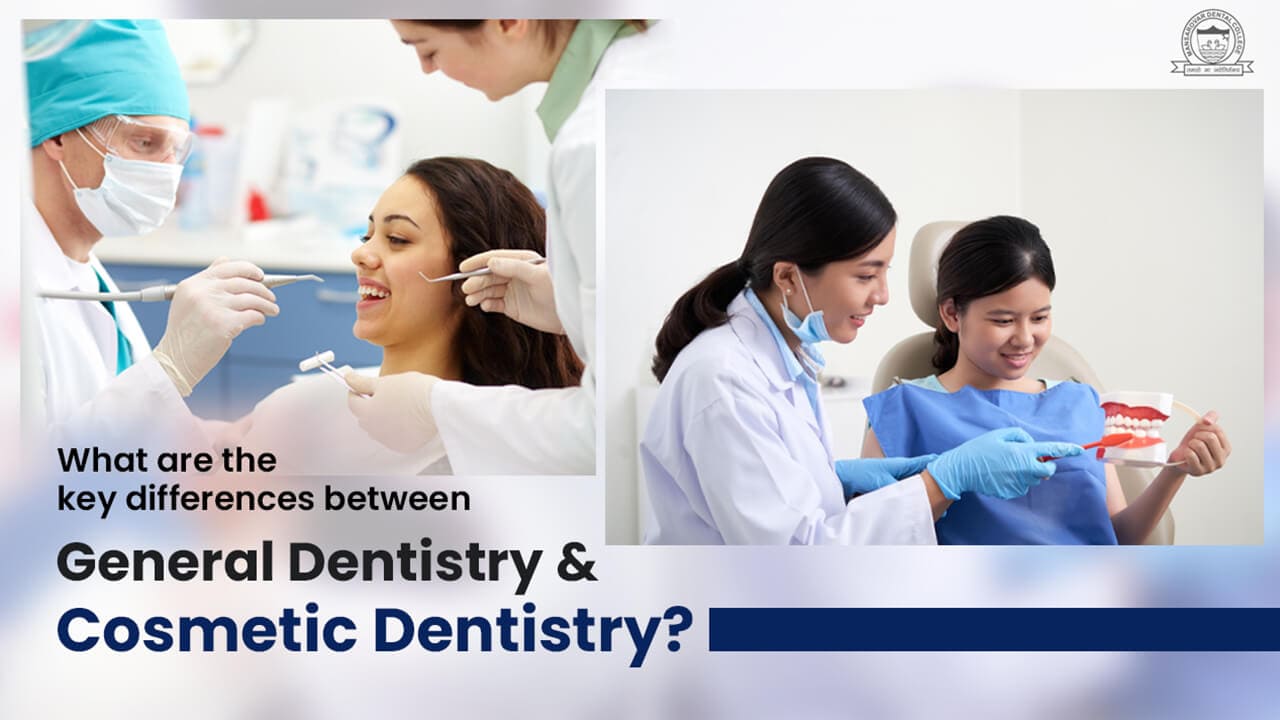 What are the key differences between general dentistry and cosmetic dentistry
Dentistry is a medical branch related to the treatment of diseases and conditions that affect the oral cavity. While it started as a normal medical branch, many types of dentistry have now come into existence. There are many types of dentistry, them being : -
Endodontist
Orthodontist
General Dentist
Periodontist
Pediatric Dentist
Oral Pathologist
Prosthodontist
Nowadays, most medical branches have a separate branch for cosmetic purposes. While many people go for facial surgeries, cosmetic dentistry is a cosmetic branch of dentistry. Before we go further to know the difference between general and cosmetic dentistry, let's know what these two mean.
What Is General Dentistry?
General dentistry comprises treatments and procedures for protecting and maintaining good oral health. There are treatments to keep your mouth, gums, and teeth healthy and free of diseases. General dentists are often viewed in a similar way to a GP, the goal is to diagnose and prevent diseases related to the oral cavity.
What Do They Do?
General dentists treat problems that are generally related to oral discomfort. Usually, general dentistry's restorative procedures include the following :
Extractions
Root canal
Filling
General dentists also provide treatment for gingivitis (gum inflammation) and conditions related to periodontitis (gum disease).
In general dentistry practice, preventive care comprises routine dental exams, professional dental cleaning, and oral cancer screening. A general dentist may offer you fluoride treatments and provide mouthguards and sealants.
What Is Cosmetic Dentistry?
Cosmetic dentistry is done to improve the appearance of teeth. Its main focus is to look after the teeth' alignment, color, shape, and size. Usually, cosmetic dentists offer the following things :
Application of inlays
Installation of dentures
Application of porcelain veneers
Fixed implants
Teeth whitening
Application of tooth-colored fillings
What Do They Do?
Cosmetic dentistry may not seem important; however, many people want their smiles to look perfect, and here's where cosmetic dentistry comes in handy.
Believe it or not, there are many people who struggle with their teeth' appearance. In many cases, cosmetic dentistry is performed simply to improve the quality of a person's teeth.
People feel confident if their appearance is good as per them, and one of the parts it is related to is their teeth, their smile. If your teeth are stained, crowded, misaligned, or have gum-related issues, it can impact your appearance.
According to a survey, people are more likely to smile if they aren't embarrassed by it. Cosmetic dentistry offers solutions for such issues. Orthodontic procedures are a part of cosmetic dentistry that not only work on the alignment of your teeth but can also make it easier for you to clean and floss them. This reduces the chances of tooth decay.
Difference Between General And Cosmetic Dentistry
When it comes to cosmetic dentistry vs general dentistry, both dentists receive the same initial training and education, and so, they both can perform regular cleaning, fillings, and regular check-ups; however, a cosmetic dentist receives additional training on aesthetics and mostly they do help you on the improvement of your teeth or smile with the help of veneers, bonding, crowns, and implants.
When it comes to the cost, cosmetic dentistry may be more expensive than general; however, it all depends on what you want to get done. Therefore, cosmetic dentistry can be both cheaper and more expensive than general dentistry.
Career In Cosmetic And General Dentistry
If you are looking for a career in dentistry, you now know about both general and cosmetic. If you are still confused about which dentistry courses to go for, you will first need to choose between general and cosmetic dentistry. Once you've chosen the stream, you can enroll in dentistry courses in a dental college. One of the best colleges you can opt for is Mansarovar Dental College and Hospital Research Centre.
You can opt for BDS (Bachelor of Dental Surgery) and MDS (Master of Dental Surgery) at Mansarovar Dental college and choose either of the above branches of dentistry. Following are the details of the courses :
Department
The college offers you well-equipped laboratories for practicing the latest treatments in dental sciences. The lecture theater complex is also well-equipped, while the college uses various modes of teaching and learning activities like problem-based learning, fixed learning modules with an integrated way of teaching, and case-based studies.
The department offers a mentor-mentee program wherein a small group of students remains in direct contact with the mentors so that students can get individual attention and learn more.
The department also offers 250+ dental chairs comprising all necessary tools for practicals. The department offers all advanced treatments available in the field of dentistry.
Seats
| Sr No. | BDS | MDS |
| --- | --- | --- |
| 1 | 100 per year | Prosthodontics - 3 |
| 2 | | Periodontics - 3 |
| 3 | | Conservative and Endodontics - 3 |
| 4 | | Orthodontics - 2 |
Eligibility
The eligibility criteria for BDS is as follows : -
The candidate must have passed 10+2 with 50% aggregate in Physics, Chemistry, and Biology (general and OBC category)
The candidate must have passed 10 +2 with 40% aggregate in Physics, Chemistry, and Biology (SC /ST category, Madhya Pradesh Domiciles)
The candidate must be 17 years+ on or before 31st December, of the year of admission to the course. Admissions are done through Government Counseling organized for NEET qualified candidates.
The candidate must be NEET qualified to take admission in BDS or MDS course at Mansarovar Dental college.
The candidate must complete 4 years' duration of the course with one year of rotatory internship.
Conclusion
Dentistry has come a long way as a branch of medical sciences. While it is continuously evolving, many other branches of dentistry have emerged, one of them being cosmetic dentistry. There is not much difference between a general dentist and a cosmetic dentist; however, a cosmetic dentist has to receive more advanced training after receiving basic education in dentistry.
If you want to make a career in dentistry, you must pursue a degree in BDS (Bachelor of Dental Surgery). Later on, you can pursue MDS (Master in Dental Surgery). You can opt for Mansarovar Dental College and Hospital Research Centre to pursue the above courses, as it offers you all the required equipment and the best faculty. You can visit the website to know more.