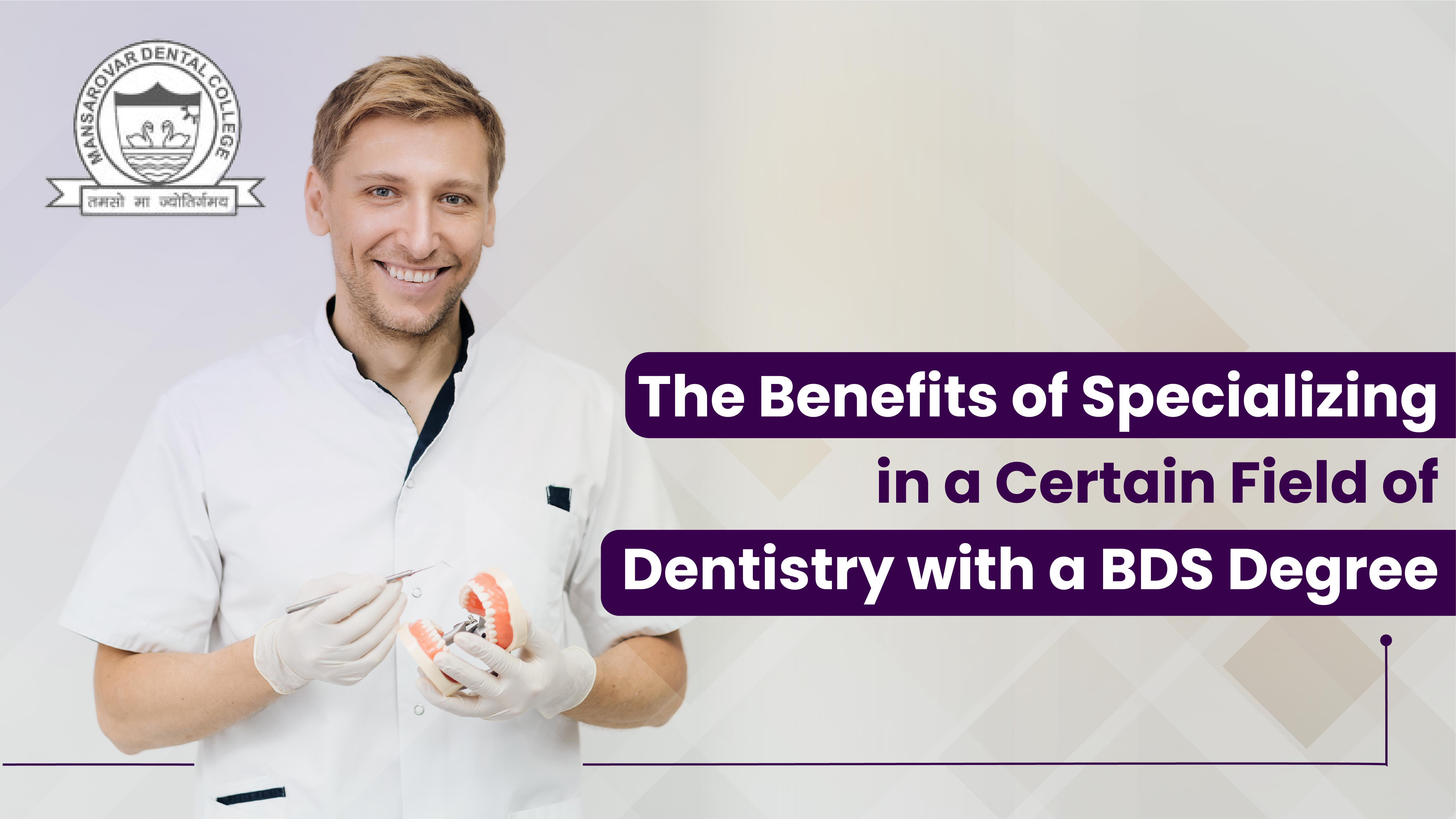 What is oral health and hygiene?
The dental industry is getting stabilized in recent years by educating the importance of oral hygiene among the global population. Enlightenment into oral hygiene and dental care has awakened the students' community to take up dental courses such as the BDS degree. According to world dental demographics provided by the National Library of Medicine, the dentist's rate has increased by 27.8% over ten years from 1990 in 73 countries around the world. In recent years, dentistry is emerging as one of the most demanded professions.
This article will help you know more about dental courses, their benefits, and much more for your bright future:
Dental courses at Mansarovar Dental College:
India has got top dental colleges that provide remarkable dental education. We, Mansarovar Dental College, one of the best dental colleges in India offer the following dental courses:
Level
Dental course
Duration
Eligibility criteria
Admission process
Undergraduate level
Bachelor of Dental Surgery (BDS)
4+1(Compulsory Rotatory Internship)

Candidates' age should be a minimum of 17 years of age.
Candidates should have completed 10+2 with physics, chemistry, and biology as compulsory subjects.
Candidates should have a minimum of 50% aggregate in 10+2

Admission is based on NEET qualification.
Postgraduate level
Master of Dental Surgery (MDS)
3 years

Candidates should have completed BDS from any recognized dental institution.

Admission is based on NEET PG qualification.
BDS specialization subjects:
BDS is an undergraduate dental course that covers the basics of a lot of dental specializations. Here are some of the BDS specialization subjects that are taught during the course:
Dental Pharmacology
Oral Pathology
Oral Microbiology
Periodontology
Preclinical Conservative Dentistry
Preclinical Prosthodontics
Oral Maxillofacial Surgery
Endodontics
Orthodontics
Pedodontics
Public Health Dentistry
MDS Specializations at Mansarovar Dental College and its benefits:
We at Mansarovar Dental College(MDC) provide the best specializations after BDS in MDS. We provide the following MDS specializations:
MDS Specializations
Description
Benefits
Orthodontics & Dentofacial Orthopedics
Deals with diagnosis, prevention, and correction of malocclusion in the oral jaws: mandible, and maxilla

Beneficial for pursuing further Ph.D
Beneficial in treating both adults and children.
High research opportunities
High salary scale

Periodontics
Deals with diseases in supporting and investing structures of the teeth such as gums, cementum, periodontal membrane, and alveolar bone.

Helps in a deep analysis of oral problems.
Higher demand in India as well as abroad.
Exclusive research openings.

Prosthodontics and Crown & Bridge
Deals with the maintenance and restoration of oral structures.

Easily practicable dental specialization.
High earnings as most people visit these dental specialists.

Conservative Dentistry & Endodontics
Conservative dentistry deals with the prevention and treatment of diseases and injuries originating in the teeth while endodontics deals with the prevention and treatment of pulp and periauricular diseases.

Beneficial for performing root canal treatments.
Good scope as it helps maintain and secure oral health.
Why is MDS important?
Pursuing MDS is highly important as students pursuing MDS after BDS in the best dental colleges enjoy a lot of benefits in their careers. Here are some of the benefits that MDS graduates get over BDS graduates:
Higher educational knowledge:
Pursuing MDS will increase the ability to gain high educational knowledge in the dental field which will be a boon in your dental career.
Specialized dental studies:
By pursuing MDS, students get the chance of pursuing their desired specializations out of the BDS specialization subjects that were educated in BDS degree.
Increased research opportunities:
Pursuing MDS opens the door to increased research opportunities in different specialties. It increases the chance of getting funds for your dental research.
More job opportunities:
Hospitals, dispensaries, clinics, and much more hire MDS graduates rather than BDS graduates. This is because of the in-depth knowledge of MDS doctors compared to BDS doctors.
Handsome salary scale:
According to Payscale and Ambition box, MDS doctors earn more than BDS doctors. The average salary of an MDS doctor is estimated to be between INR 49,000/- to INR 1 Lakh whereas BDS graduates earn around INR 16,790 per month.
As a gist, MDS benefits are way more appreciable than BDS. MDS after BDS helps dental graduates to explore greater job opportunities with higher pay scales and extraordinary perks.
Jobs after BDS:
Let us have a look into different available jobs after BDS in India as well as abroad: jobs after BDS in India
Jobs after BDS in India:
Government jobs
Private jobs

Dental Scientist
Dental Surgeon
General Duty Medical Officer

Dentist
Dental Hygienist
Oral Pathologist
Dental Surgeon
Professor
Here are the graphs that depict the salary scale for different government and private jobs respectively:
Jobs after BDS abroad:
Dentist
Dental Hygienist
Dental Assistant
Dental Office Manager
Dental Laboratory Technician
Oral Surgeon
Here is a graph that depicts average salary of BDS jobs abroad:
Jobs after MDS:
Job aspects after MDS are highly upgraded compared to BDS. Salary scales are much better based on the chosen specializations in MDS. The table below gives an idea about the average salary for different MDS specializations and their positions:
MDS specializations
Job positions
Average salary in INR
Orthodontics & Dentofacial Orthopedics
Dentist

---

Dental Hygienist

---

Oral Pathologist

---

Dental Surgeon

---

Professor
2.5-3 LPA

---

6-9 LPA

---

6-10 LPA

---

3-6 LPA

---

7-8 LPA
Periodontics
Private Clinic Practitioner

---

Government Sector Practitioner

---

Researcher

---

Healthcare Panelist
2 LPA

---

5 LPA

---

4.7 LPA

---

12 LPA
Prosthodontics and Crown & Bridge
Oral Pathologist

---

Dental Surgeon

---

Clinical Microbiologists

---

Medical Representative
10-15 LPA

---

5-6 LPA

---

2-4 LPA

---

4-6 LPA
Conservative Dentistry & Endodontics
Dentist

---

Oral Surgeon

---

Dental Lab Technician

---

Orthopedist
3-6 LPA

---

5-7 LPA

---

2-4 LPA

---

8-10 LPA
Conclusion:
The dental industry is today's fast-blooming sector which was valued at USD 359.5 billion in 2021 and is expected to grow at a Compound Annual Growth Rate of 4.4% from 2022-2030. Emerging as a huge market, the dental industry requires skilled dental professionals. Students pursuing BDS degree and planning to pursue MDS are in high demand in the dental industry and so choosing dental courses are highly beneficial in the upcoming years.
FAQs
1. What is the average fee for a BDS course?
Average fees for a BDS degree will be between INR 50,000 to INR 4 LPA.
2. List other specializations in MDS.
Oral Pathology and Microbiology
Public Health Dentistry
Paedodontics and Preventive Dentistry
Oral Medicine and Radiology
3. Can BDS graduates pursue MBA?
Yes, BDS graduates can pursue MBA.
4. Is BDS equivalent to MBBS?
By the level of degree, both BDS and MBBS are undergraduates. But, BDS deals with dentistry exclusively while MBBS deals with general medicine.
5. Can MBBS graduates pursue MDS?
No, MBBS graduates cannot pursue MDS.